Unbalanced is powered by Vocal creators. You support
Michael Reynoso
by reading, sharing and tipping stories...
more
Unbalanced is powered by Vocal.
Vocal is a platform that provides storytelling tools and engaged communities for writers, musicians, filmmakers, podcasters, and other creators to get discovered and fund their creativity.
How does Vocal work?
Creators share their stories on Vocal's communities. In return, creators earn money when they are tipped and when their stories are read.
How do I join Vocal?
Vocal welcomes creators of all shapes and sizes. Join for free and start creating.
To learn more about Vocal, visit our resources.
Show less
WWE Elimination Chamber Review: Sasha Banks & Bailey Become the First Ever Women's Tag-Team Champions!!
Sasha Banks and Bailey become the first ever Women's Tag-Team champions. Plus highlights from other marquee matches.
History was made at the Elimination Chamber.
Sasha Banks and Bailey, known as "The Boss & Hug Connection," became the first ever Women's Tag-Team champions!!
There were bodies everywhere.
Each team gave everything they had.
Bodies were slammed through chains and doors. It was down to both teams, who started the match (Sasha Banks and Bailey, Sonya Deville, and Mandy Rose). After suffering a shoulder injury on Raw, Sasha fought through her pain and unleashed the "Banks Statement" on Deville to capture the tag team titles.
Both Bailey and Sasha Banks take in the moment and soak it in.
After the match, both Sasha and Bailey were speechless and soaked everything in. Finally, Sasha spoke and dedicated this huge victory for all women who fought to get where they are today.
Both Sasha and Bailey fought for the women in the past, present, and future. Furthermore, Sasha stated that there will be more changes in the women's division still to come.
I'm looking forward to more changes! Aren't you?
Congrats for all the women who competed in this match!!
A special congrats to the new tag-team champions!!
Smackdown Tag-Team Championship: The Usos defeat Shane McMahon and the Miz.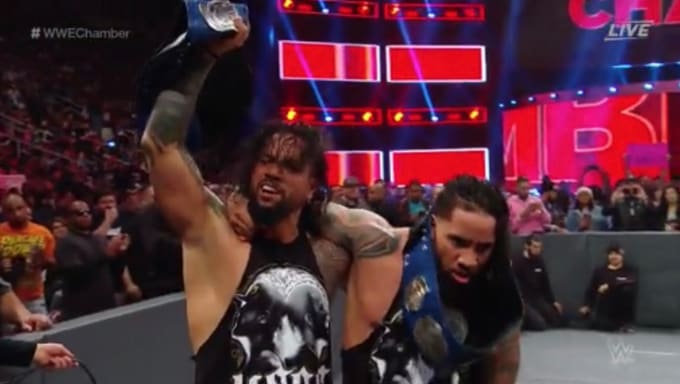 Welcome, to the Usos penitentiary!
The Usos (Jimmy and Jey) reclaimed the tag-team title for the sixth time.
The self-proclaimed "Best Tag Team" (The Miz and Shane McMahon) got outsmarted by the new tag team champions. The Usos literally welcomed both "Shane-O-Mac" and the Miz to the penitentiary.
Early in the match, both Shane and Miz took full control and were starting to jell as a team. Unfortunately, experience came into play and the Usos used their championship mentality and capitalized when it mattered.
The match was so entertaining, Shane delivered both "Coast-to-Coast" move and "Leap of Faith" by pushing his body to the limit. Shane's efforts was not enough. Jimmy turned the tables on the Miz and delivered a reversed pin o capture the tag-team titles.

Better luck next time, Shane-O-Mac and the Miz.
Raw Women's Championship: Ronda Rousey defeats Ruby Riott.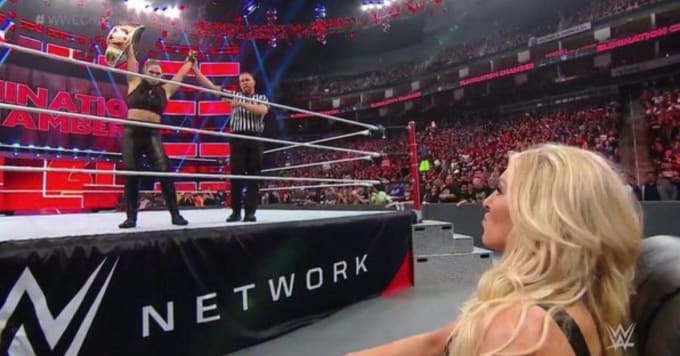 Before the match started, "The Queen" Charlotte Flair emerged gracefully from the entrance and had a short interview about her match at Wrestlemania. To interrupt Flair's interview, the leader of the Riott Squad, Ruby Riott, came out to battle.
After a short wait, "Rowdy" Ronda Rousey stormed out on a mission. Ronda appeared as Sonya Blade from Mortal Kombat 11 and wanted to end the match as quickly as possible.
This was a very quick match for the reigning Women's champion. Ruby Riott had no answer for the "Baddest Woman on the Planet" and was completely annihilated from start to finish.
Ronda went completely rogue while "The Queen" Charlotte Flair watched from the sidelines. All Ronda did was delivered her signature arm bar submission move and quickly defeated Ruby Riott.

Becky Lynch emerged and landed vicious blows at both Charlotte Flair and Ronda Rousey with her crutches.
After the match, both Ronda and Charlotte had an intense stare down.
All of a sudden, Ronda locked her eyes at someone from the crowd. Then out of nowhere, "The Man" Becky Lynch emerged from the crowd with crutches. I didn't expect Becky to come out like this.
The WWE universe was very happy to see her.
The crowd was so happy, they chanted, "Becky!! Becky!! Becky!!" as "The Man" entered the ring.
As soon as Becky entered the ring, she completely snapped and used one of her crutches to hit Charlotte, injuring her in the process.
Becky was not done.
As Becky encouraged Ronda to hit Charlotte with one of her crutches, Becky blindsided Ronda from behind and delivered multiple shots at her back. Becky had enough and used up all of her aggression and emotions in every hit.

Ronda Rousey got injured in the head.
Hence, Ronda got severely injured on the head, while Charlotte got a few red marks on her skin.
This was a brutal beatdown by "The Man."
I have a strong feeling that Becky is finding a way to be involved in the championship match at Wrestlemania. A triple match of Ronda Rousey, Charlotte Flair, and Becky Lynch has a nice ring to it.
Stay tuned with this triple threat feud.
Handicap Match Intercontinental Championship: Finn Balor defeats Bobby Lashley and Lilo Rush.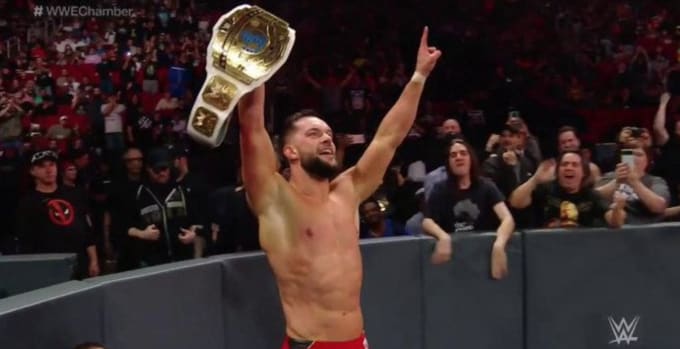 Finn Balor is the new Intercontinental champion!!
The Balor Club lives on.
Early in the match, "The Almighty One" Bobby Lashley set the tone and dominated as usual. Whenever Lilo Rush is tagged in, he would trash talk and give his own haymakers at Finn, but it wasn't enough. Finn didn't give up and delivered an over the top airborne dive on both Bobby and Lilo.
Sensing that the IC title is within his reach, Finn pushed Lilo into the ring and took full advantage. To secure the victory, Finn delivered his signature "Coup de Grace" stomp move and became the new Intercontinental champion for the first time.
Trust was a huge factor in this match between "The Almighty One" Bobby Lashley and the hype man, Lilo Rush. In the end, their trust faded away, as "The Extraordinary Man who can do extraordinary things" Finn Balor became the new Intercontinental champion.
After the match, Bobby was so pissed, he took his frustration out on Lilo and gave him a vicious body slam.
No Disqualification Match: Baron Corbin defeats Braun Strowman.
This completely took me by surprise.
I thought "The Monster Among Men" Braun Strowman would use his prowess and defeat Baron Corbin.
It was only a matter of time until Corbin had help in this match against Strowman. Early on, Strowman was in control for a while, until the "Scottish Psychopath" Drew McIntyre emerged with a steel chair in hand.
Then came "The Almighty One" Bobby Lashley who wants nothing more than to help his fellow comrades put down the monster. Strowman tried his best to fight back, but the numbers gained.
"The Monster Among Men" couldn't fight back anymore.
After McIntyre delivered a vicious "Claymore Kick" on Strowman, it was over from there. It was too much Corbin, Lashley, and McIntyre all night. To end the match for good, Corbin and his henchmen set up two huge stairs and piled up two tables on top of each other.
Then, they lift up Strowman for a massive triple-powerbomb and Corbin pinned the monster for the victory.
This trio of Lashley, McIntyre, and Corbin means serious business.

Elimination Chamber Match WWE Championship: "The New" Daniel Bryan defeats Kofi Kingston, Randy Orton, AJ Styles, Samoa Joe, and Jeff Hardy.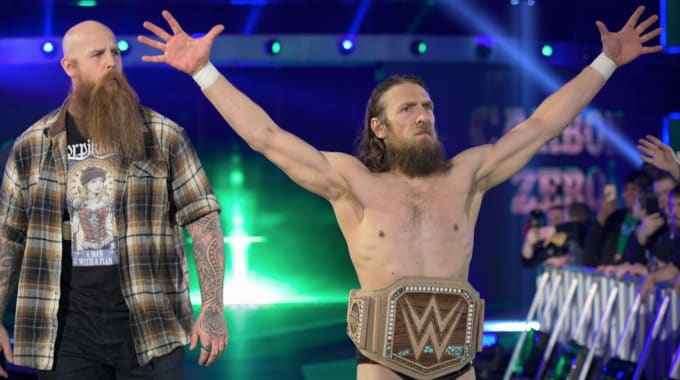 And still... the WWE champion... "The New" Daniel Bryan.
In what was the best match ever, "The New" Daniel Bryan found a way to retain his WWE title. All of these men went through hell to become WWE champion.
There were multiple eliminations.
Among those man, one half of the "New Day," Kofi Kingston emerged and delivered in big way. Kingston was resilient and entertained the Houston crowd with his athleticism and agility. One of the most talked about encounters was when both Kofi and Daniel became the last two men standing.
Each men gave everything they had.
Counter after counter.
Blow after blow.
Kofi gave us hope that he would win his first WWE title after 11 years of not being a world champion. Kofi came so close, but "The New" Daniel Bryan took full advantage and delivered his second running knee to retain the title.
Kofi Kingston's "New Day" friends came for support.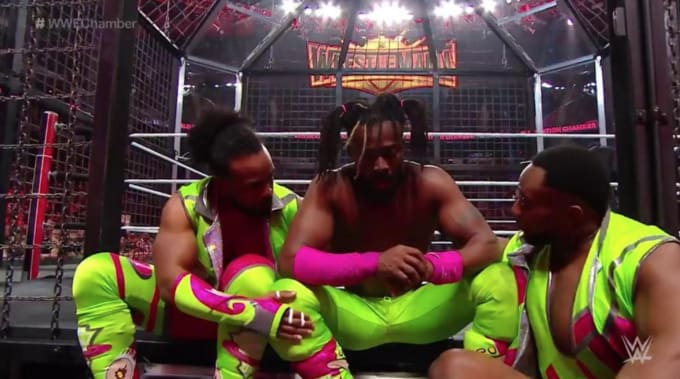 After the match, both of Kofi's friends, Xavier Woods and Big E, came to comfort him.
I felt really bad for Kofi.
He wasn't supposed to be in this match and still gave us a show. Hopefully, before Kofi retires, I really want him to at least win a WWE title.
This concludes my review of Elimination Chamber.
I hope you guys enjoyed this event as much as I did.
Sasha Banks and Bailey made history and became the first ever Women's Tag-Team Champions. There were three title changes. I'm glad Finn Balor won the Intercontinental championship.
I'm not happy that Daniel Bryan retained his WWE title.
The road to Wrestlemania has just begun.