Unbalanced is powered by Vocal creators. You support
Ryan McCombs
by reading, sharing and tipping stories...
more
Unbalanced is powered by Vocal.
Vocal is a platform that provides storytelling tools and engaged communities for writers, musicians, filmmakers, podcasters, and other creators to get discovered and fund their creativity.
How does Vocal work?
Creators share their stories on Vocal's communities. In return, creators earn money when they are tipped and when their stories are read.
How do I join Vocal?
Vocal welcomes creators of all shapes and sizes. Join for free and start creating.
To learn more about Vocal, visit our resources.
Show less
What Happened to the Cowboys in Indianapolis?
How the Cowboys Win Streak Ended
The Cowboys essentially clinched the NFC East last week against the Eagles, and they played like it against the Colts. The Cowboys were shutout for the first time since 2003, and the defense had its worst performance of the year. With the ability to clinch the NFC East with a win, the Cowboys went out and laid an egg. To give Jason Garrett just a little bit of credit, he usually does an excellent job of making sure the team comes out and plays hard, which made Sunday's performance especially odd. Let's take a look at the good, the bad, and the ugly from Sunday's loss.
The Good
Ezekiel Elliott: Probably the lone bright spot was another fantastic performance from Ezekiel Elliott. Elliott had 128 all-purpose yards on 25 touches, with 70 of those yards coming in the first quarter. Week after week, Elliott shows himself to be the team's best offensive weapon and one of the best in the entire league.
Dak Prescott: He probably fits better in the "just fine" category, but Prescott did his job on Sunday. He was efficient—and for the most part—the Cowboys moved the ball well until they got in the red zone. He had a dropped touchdown by Jamize Olawale and a pass tipped by Blake Jarwin that led to an interception to make his stat line look a lot worse than he actually played, but Prescott was not the problem Sunday.
Xavier Woods: The second-year safety has been improving every single week. Woods had five tackles, a pass deflection, and what should have been an interception in the end zone that was taken away by a bad holding call on Jeff Heath. Woods also took Eric Ebron's soul on a hit so hard that it sent the ball flying and Ebron to the sideline.
The Bad
Special Teams: The special teams for this team has officially become a problem for the Cowboys. Every week they make mistakes that they absolutely cannot make. This week, it was a blocked field goal on the first possession of the game that led to an easy touchdown for the Colts. If you want to make a run in the playoffs, stuff like that needs to be corrected—and soon.
This team better be praying for Tavon Austin to come back quickly because Cole Beasley costs this team yards on every punt return. Beasley is averaging only 4.8 yards per return with a long of 14 this season, while Austin averaged 5.8 yards per return with a long of 22. With an offense that struggles as much as the Cowboys do, you desperately need to get production from your punt returner.
Jeff Heath and Chidobe Awuzie: Both Heath and Awuzie got beat consistently in man coverage all game. Awuzie got beat bad by T.Y. Hilton on a huge third down towards the end of the game and he was too soft in his coverage all game long. Heath was getting beat by Ebron all game—although Ebron's drops saved him to some extent—and it was Heath's hold on Ebron that took away Xavier Woods's interception.
The Ugly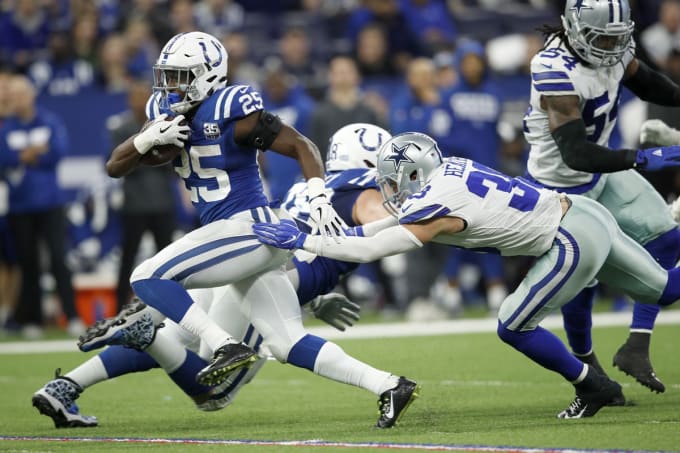 The Cowboys Front Seven: This front seven has been the best unit on the team, and probably the biggest reason why they've won eight games. But on Sunday, they were awful. The Colts offensive line pushed them around like nothing. Marlon Mack set a career high with 139 rushing yards on 5.1 yards per attempt. That is completely inexcusable. Mack hasn't rushed for 100 yards since Week 8.
The Cowboys pass rush was unable to sack Andrew Luck, only hitting him three times the entire game. It is almost impossible to win games against a good quarterback when they have all day to throw.
The Cowboys Offensive Line: The Boys entered Sunday's game without their starting center and right guard, and finished the game missing all three starters on the interior of the line. They even started left tackle Tyron Smith, who's playing banged up and does not look like himself. Penalties were a problem for the Cowboys offensive line on Sunday, as they have been all season. The Cowboys offensive line has been called for the fourth most holding penalties in the league, and Tyron Smith is now tied for the individual league lead at six penalties.
Dak Prescott was sacked three times for 26 yards on Sunday, putting them at 51 sacks allowed all season. That's good for the most sacks ever allowed by a Cowboys team, and only the 50th time a quarterback has been sacked 50 or more times in a single season. Some of that blame also belongs to Dak Prescott, but the offensive line has been abysmal in pass protection this season.
The Refs: Absolutely atrocious, and they have been all season. Cowboys opponents have been called for the least amount of penalties in the NFL at 69 penalties, while Colts opponents have been called for the second most penalties in the NFL at 116.