Unbalanced is powered by Vocal.
Vocal is a platform that provides storytelling tools and engaged communities for writers, musicians, filmmakers, podcasters, and other creators to get discovered and fund their creativity.
How does Vocal work?
Creators share their stories on Vocal's communities. In return, creators earn money when they are tipped and when their stories are read.
How do I join Vocal?
Vocal welcomes creators of all shapes and sizes. Join for free and start creating.
To learn more about Vocal, visit our resources.
Show less
UFC 229: Khabib vs McGregor—Full Preview
It all goes down this Saturday night at the T-Mobile Arena in Las Vegas.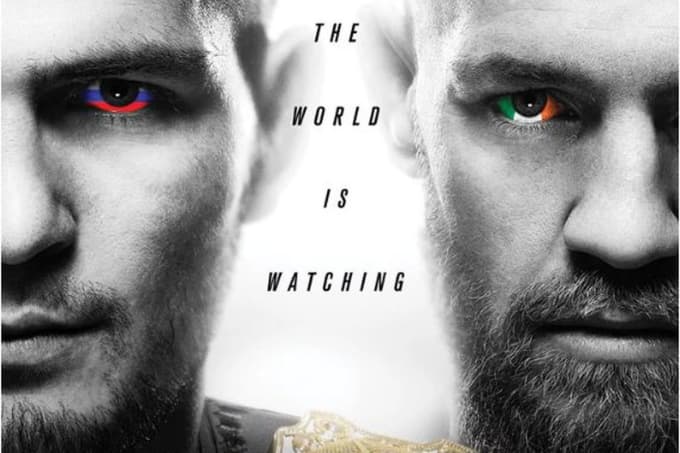 What a great time to begin this blog! This weekend we will see the biggest fight in UFC, and possibly MMA history, as "The Notorious" Conor McGregor faces Khabib Nurmagomedov for the Russian's Lightweight Championship. Before this, there is a full card with Tony Ferguson and Anthony Pettis as the co-main event, and both men are ready to jump in should Khabib or Conor not be able to fight. While these lightweight battles are undoubtedly the focus of the weekend, there is a strong undercard on deck as the buzz intensifies for the main event.
The undercard kicks off in UFC Fight Pass with three fights, including former UFC title challengers Gray Maynard and Yana Kunitskaya. They face Nik Lentz and Lina Lansberg respectively. Despite their history in championship fights, I feel that both Kunitskaya and Maynard will lose on Saturday night. Also on Fight Pass, Ryan LaFlare faces Tony Martin. LaFlare is very underrated in my opinion, and even has a win over Santiago Ponzinibbio. I fancy him to get the best of Martin.
Fox Sports 1 is the home for the next portion of the fight card, with this portion headlined by Sergio Pettis and Jussier Formiga. Formiga has fought every top flyweight not named Demetrious Johnson, so he has a vast experience edge over the 25 year old Pettis. Pettis is on the up though, and looks set to have a rematch with now-champion Henry Cejudo in the near future, so I expect him to get past Formiga. Elsewhere on FS1, Vincente Luque fights Contenders Series vet Jalin Turner, Aspen Ladd faces former title challenger Tonya Evinger, and "Hot Sauce" Scott Holtzman fights Alan Patrick. This is certainly not the strongest set of FS1 prelims, mainly due to the loss of Sean O'Malley, who is in discussions with USADA over a potential tainted supplement and was set to fight Jose Quinonez before being pulled. This portion of the card airs at 1 AM on BT Sport 1, and despite the "Suga" situation is a good warm up before the main event.
The main card kicks off on PPV at 10et/7pt/3gmt and will begin with the strawweight fight between perennial contenders Michelle Waterson and Felice Herrig. This on paper looks to be a classic striker vs grappler as the "Karate Hottie" will look to use those Karate skills and keep the fight on the feet, and "Lil Bulldog" has an edge over Waterson in the grappling department. Both women need a win to remain in title contention with the rise of fighters like Tatiana Suarez, Alexa Grasso, and Mackenzie Dern threatening to take over at the top of the division. I give Waterson the edge in this fight as I believe the variety in her striking attacks will be key. She also needs to display good takedown defence in order to keep the fight in her wheelhouse.
Next up we have a big fight in the heavyweight division. Six-foot-seven Russian Alexander "Drago" Volkov fights Texan Derrick "The Black Beast" Lewis. Lewis is expecting his best performance in some time, as since his last fight, a disappointing encounter with Francis N'Gannou, he has had surgery to correct back issues which have hindered his entire UFC career. Volkov is coming off a big win over Fabricio Werdum, and with a win here could position himself for a championship fight in 2019. Both men have knockout power, and it could go either way. I feel that Volkov though is the far superior technical fighter, and this should lead him to victory on Saturday in Las Vegas.
Next is the battle at light heavyweight between Ovince Saint Preux and rising star Dominick Reyes. Reyes is 3-0 in the UFC with three first round knockouts, his most recent being over Jared Cannonier, a prospect in his own right. Ovince Saint Preux is a seventeen fight UFC veteran with wins over Tyson Pedro and Corey Anderson in the last year. He is known for the Von Flue choke, which he has used three times in the UFC, which is more than the man the move is names after, Jason Von Flue. It is primarily a counter to the guillotine choke, so it is unlikely he will be able to pull off a fourth on Saturday as striker Reyes is not likely to have him in that position. Instead, I fancy Reyes to move to 4-0 in the UFC. I think it will be a longer fight though, as OSP is a smart fighter. He will not be able to avoid the power completely though: Reyes puts him away in round two.
Next is the co-main event, between former Interim lightweight champion Tony "El Cucuy" Ferguson and former (actual) lightweight champion Anthony "Showtime" Pettis. Pettis could be on a bit of a career resurgence with a surprise submission over Michael Chiesa in his last fight. This will be a tough test though, as Ferguson is on a ten-fight win streak and is widely considered one of the most well-rounded fighters in the world today. Pettis also has a very well-rounded game, so we are in for a good fight whether the fight goes to the ground or remains on the feet. I give the edge to Ferguson, although Pettis could give him some challenges.
And then finally it's the fight we're all waiting for. Conor McGregor vs Khabib Nurmagomedov. Before the breakdown we must delve into the history of this fight. It all started years ago with a social media interaction. Khabib wanted a Conor McGregor t-shirt. They appeared to be friends. Then UFC 205 happened. Khabib was in talks to fight Eddie Alvarez, only to be shafted for McGregor when he asked to move up. Khabib fell to the prelims. Fast forward to the infamous bus incident at UFC 223, and we have ourselves one of the best stories in UFC history. This is talked about in detail in a fantastic YouTube video from the channel MMA On Point. This fight is very simple to break down. It is the ultimate striker vs grappler match-up. Conor will be looking for the knockout early, and to avoid being taken down my Khabib. That is easier said than done. Khabib's smothering style of wrestling is the reason that he has never lost a round in his career. Conor put a heavy focus into his knees in his open workout, so could this be his strategy to stop the takedowns? One of the key weaknesses Khabib has shown is his tendency to get hit, especially in his fights against Michael Johnson and Al Iaquinta. If he gets hit like this against Conor, it will be catastrophic. Conor on the other hand, was taken down by Chad Mendes on five days notice. "Money" (No, not that "Money"), while being a good wrestler is not on Khabib's level so if Khabib gets the takedown, which I have to expect he will should Conor not knock him out early, he should be able to wear out McGregor, who has had cardio issues in the past. I'm torn with this fight. One thing for sure is that just two minutes into the first round we will be able to tell which way it is headed. My prediction for this fight however is a Conor McGregor stoppage. I expect it to bear similarities to the Eddie Alvarez fight where Conor is completely in control on the feet, before getting the finish in round two.
It all goes down on pay-per-view this Saturday night at 10ET/7PT with the FS1 portion beginning 8ET/5PT. If, like me, you are from the UK. It goes live on BT Sport 1 at 1 AM for the prelims and 3 AM for the main card, with the main event from 5 AM onwards.
If you've enjoyed this preview, please follow me on Twitter and Instagram @SCFack, and check out my blog (scfack.blogspot.com) where I will regularly talk about MMA.