Unbalanced is powered by Vocal creators. You support
Kenan Goyette
by reading, sharing and tipping stories...
more
Unbalanced is powered by Vocal.
Vocal is a platform that provides storytelling tools and engaged communities for writers, musicians, filmmakers, podcasters, and other creators to get discovered and fund their creativity.
How does Vocal work?
Creators share their stories on Vocal's communities. In return, creators earn money when they are tipped and when their stories are read.
How do I join Vocal?
Vocal welcomes creators of all shapes and sizes. Join for free and start creating.
To learn more about Vocal, visit our resources.
Show less
The Unbalanced NFL Mock Draft: Final Edition
The draft is upon us, and with it comes the final edition of The Unbalanced Mock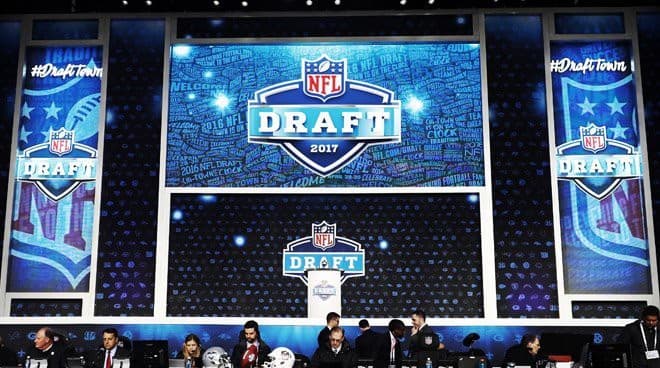 It's finally here. Draft day.
In just a few short hours the 2017 NFL Draft will kick off with what is sure to be one of the wildest first rounds yet.
What once was seen as a surefire first overall pick is now clouded with uncertainty and there's truly no telling how things will shake up once the Browns turn in their draft card to kick off the craziness.
While you wait for the inevitable pandemonium though, there's time to cram one more mock draft in to see yet another possibility of who your team might wind up with once Thursday night ends.
1. Cleveland Browns — Myles Garrett DE — Texas A&M
The Browns need to make this pick regardless of their interest in Trubisky. Garrett is a generational pass rusher will anchor Cleveland's D for years to come.

2. San Francisco 49ers — Jamal Adams S — LSU
I'm under the impression that Cleveland is going to try to trade here but if San Fran stands pat at two, the rangy, athletic safety Adams would help build on a defense that already has solid pieces in place.

3. Chicago Bears — Solomon Thomas DE — Stanford
If not for Garrett, Thomas would be the clear cut top pass rusher in this class. Chicago needs to go with the best player available and Thomas would give them a versatile defensive lineman to do just that.

4. Jacksonville Jaguars — O.J. Howard TE — Alabama
The Jaguars built up their D in free agency and now need to surround Blake Bortles with more weapons like Howard. The Alabama product is one of the best tight end prospects in recent years and would be an immediate contributor for Jacksonville at a position of need.
5. Tennessee Titans (LAR) — Malik Hooker S — Ohio St.
Jon Robinson and company know how to work a draft. There's a strong likelihood the Titans trade out of this pick but if they stay they'll have their pick of a solid bunch of top tier defenders like Hooker to choose from.

6. New York Jets — Deshaun Watson QB — Clemson
While Trubisky is getting all the hype, Watson is my QB1 and while the Jets need help all over and could also stand to trade back, nabbing the Clemson QB would be a step in the right direction at the game's most important position.

7. Los Angeles Chargers — Jonathan Allen DE — Alabama
The newest L.A. residents are sitting at a nice spot at pick seven and should have a solid number of top prospects to choose from. With a number of options, Alabama's Allen would give them a versatile defender to pair with Joey Bosa and make for a ferocious, young defensive front.

8. Carolina Panthers — Christian McCaffrey RB — Stanford
The draft media seems to be almost all-in on McCaffrey to Carolina at eight and frankly it makes too much sense not to happen. The Panthers need to surround Cam Newton with weapons and the Stanford running back and his versatile skill set is the definition of that.

9. Cincinnati Bengals — Derek Barnett DE — Tennessee
At nine, Cincy will essentially be waiting to see what top prospect slips through to them and here they'll land a much needed pass rusher in Barnett to start rebuilding a defense that has been badly depleted.

10. Buffalo Bills — Reuben Foster LB — Alabama
Sean McDermott's first pick as the Bills head coach will likely be one that embodies his tough coaching attitude and with the need there and the prospect available, Foster should be the pick in little to no time to step in and anchor the middle of the Buffalo D.

11. New Orleans Saints — Marlon Humphrey CB — Alabama
In a bit of a shocker, the first corner in a talented positional group is Alabama's Humphrey to the Saints. He's a big physical defender who should be able to help stabilize a New Orleans secondary that has been a mess for years.

12. Cleveland Browns — Mitch Trubisky QB — North Carolina
This pick will likely happen much higher up but nonetheless, it appears Cleveland is decided on their QB of choice and they seem to be willing to do and give up a lot to get both he and Garrett in round one.

13. Arizona Cardinals — Mike Williams WR — Clemson
The Cardinals would likely be overjoyed if Williams falls to 13 and would wind up with the successor to Larry Fitzgerald who could contribute from the get go and boost a receiving corps that took a disappointing step back in '16.

14. Philadelphia Eagles (MIN) — Marshon Lattimore CB — Ohio St.
If Lattimore falls here the Eagles will likely be quick to snatch him up here. They need help desperately in the secondary and luckily should have a decent shot at one of the top defensive backs at 14.

15. Indianapolis Colts — Leonard Fournette RB — LSU
There's no doubt that Fournette is a special talent but he still falls to 15 here where the Colts should be elated to snatch up such an elite prospect to pair with Andrew Luck in the backfield for years to come.

16. Baltimore Ravens — John Ross WR — Washington
Even with the Breshad Perriman pick from two years ago, the Ravens need to add another wideout for Joe Flacco to work with and Ross has emerged as the top one or two at the position and would give Baltimore a dynamic, speedy, pass catching threat.

17. Washington Redskins — Budda Baker S — Washington
Baker isn't getting the first round love he deserves but I suspect some team in the teens or 20's will snatch him up and get a physical defensive playmaker to plug and play. Washington needs to build up the defense around their stars and Baker would help in a big way.

18. Tennessee Titans — David Njoku TE — Miami
Tennessee should be able to come away with two immediate contributors on offense and defense with their two first rounders and with Hooker at five, nabbing a sensational talent like Njoku who can do just about everything as a tight end and receiver would greatly help out Marcus Mariota and the Titans' offense.

19. Tampa Bay Buccaneers — Dalvin Cook RB — FSU
This pick is another that seems too perfect not to happen. Cook and the Bucs have been linked throughout the draft process and at 19 it's the perfect spot and team for the dual threat back to land alongside Jameis Winston and the rest of this budding offense in Tampa Bay.

20. Denver Broncos — Garrett Bolles OT — Utah
The first offensive lineman comes off the board here to the Broncos who need to find an established left tackle. Bolles has emerged as the top tackle in the class and is likely high on Denver's wish list.

21. Detroit Lions — Corey Davis WR — Western Michigan
The Western Michigan receiver has seen his stock drop a bit from injury but he should still go in round one and here he lands with the Lions who can use Davis as a true number one receiver to beef up an already exceptional passing attack in Detroit.

22. Miami Dolphins — Haason Reddick LB — Temple
The Dolphins have their options where they're at but should take a long hard look at linebacker where Reddick would give them a versatile outside backer who can cover, rush the passer and defend the run with speed and power.

23. New York Giants — Ryan Ramczyk OT — Wisconsin
Once the first tackle goes the rest shouldn't be too far behind. The Giants are one of the teams in the 20's that could use a tackle and with Ramczyk they would get a solid one that would help bolster their line and help move former first rounder Ereck Flowers back to a more natural right tackle spot.
24. Oakland Raiders — Quincy Wilson CB — Florida
The Raiders can use this draft to focus almost entirely on defense and here they come away with an exceptional corner who embodies the Oakland spirit and would fit in nicely with the defensive style the Raiders employ.

25. Houston Texans — Cam Robinson OT — Alabama
The next tackle comes off the board where many assume a QB will be in play. With other still solid passers available in the middle rounds though I think Houston looks to stabilize their offensive line first and foremost by taking Robinson to take over as their future at left tackle.

26. Seattle Seahawks — Malik McDowell DT — Michigan St.
Michigan State's McDowell just feels like a classic Seahawks pick. He's a versatile, athletically gifted defensive lineman who just needs the right coaching to tap into his full potential. And in Seattle he should get every opportunity to succeed and flourish as the next great Seahawks lineman.

27. Kansas City Chiefs — Tre'Davious White CB — LSU
Kansas City is one of the more complete teams in the league and as such, can really look to add talent in a number of areas with one of the best remaining prospects in White. Finding another corner opposite Marcus Peters is a priority and the LSU product would help give the Chiefs two high quality cover corners.

28. Dallas Cowboys — T.J. Watt LB — Wisconsin
Everybody knows that Jerry Jones loves to make a splash and here he can bring the next Watt to Texas and help out his defense that needs a dynamic pass rushing threat. Watt has the kind of potential the Cowboys can afford to gamble on and hope he turns into a top outside backer.

29. Green Bay Packers — Kevin King CB — Washington
The Packers need secondary help BAD and should make cornerback priority number one in this draft. This late in round one they should still have plenty of quality players to chose from at the position and in King they'll get a massive, physical playmaker to insert into their defensive backfield.

30. Pittsburgh Steelers — Takkarist McKinley DE — UCLA
The need for an edge rusher in Pittsburgh is still a pressing one and adding a talent like McKinley would help in a big way. The UCLA product has should the kind of quickness and pass rushing move to warrant a first round selection and would fit in perfectly in the Steelers D.

31. Atlanta Falcons — Taco Charlton DE — Michigan
There isn't one terribly pressing need for the Falcons so they can afford to stock up wherever they see fit and adding another pass rusher like Charlton to pair with Vic Beasley would be one addition that could help them remain contenders for the foreseeable future.

32. New Orleans Saints (NE) — Charles Harris DE — Missouri
New Orleans needs to go defense heavy with their two first rounders and after adding to the secondary with pick 11, selecting a pass rusher like Harris to pair with Cam Jordan should be next on their to-do list at 32.