Unbalanced is powered by Vocal creators. You support
Brandon Anderson
by reading, sharing and tipping stories...
more
Unbalanced is powered by Vocal.
Vocal is a platform that provides storytelling tools and engaged communities for writers, musicians, filmmakers, podcasters, and other creators to get discovered and fund their creativity.
How does Vocal work?
Creators share their stories on Vocal's communities. In return, creators earn money when they are tipped and when their stories are read.
How do I join Vocal?
Vocal welcomes creators of all shapes and sizes. Join for free and start creating.
To learn more about Vocal, visit our resources.
Show less
The Packers and Cowboys Headline NFL Week 4 Picks
Picks Against the Spread For All 16 Games, Plus Three Best Bets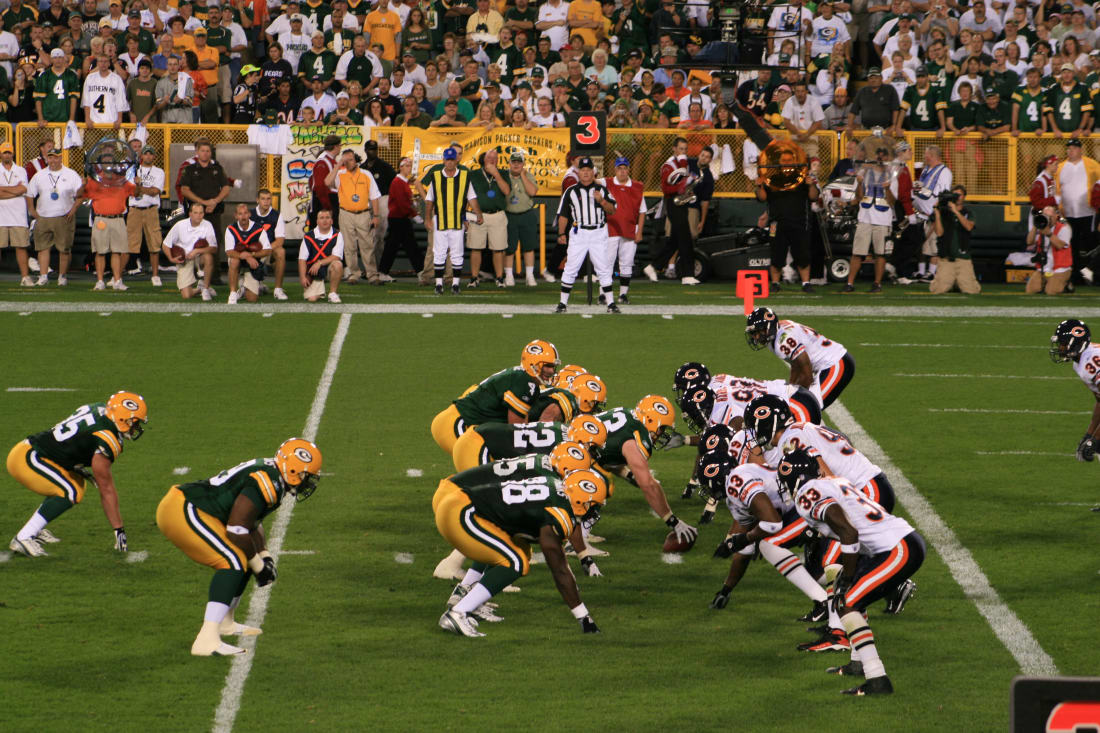 Welcome back to the weekly pick'em where, unlike Bill Simmons, we actually pick more than two games each week.
Week 3 was a weird one, between the ten road favorites and the litany of team protests, and it feels like we are back to square one after three weeks of games. Half of the Week 4 lines are three points or less, a bunch of coin-games between teams none of us know are good or bad yet.
Last week we went with two themes that covered most of the games. Three "Kitchen Sink" games came out well, with the desperate team going 2–1 against the spread. As for the "They're-Just-Better Road Picks?" Turns out they weren't better, and we dropped all five picks. Still, our Best Bets went 2–1, and early Lock of the Year Dallas rolled on Monday night.
Looks like this confidence ranking system is starting to work. Let's get to the Week 4 picks…
THE STAY AWAYS
Cleveland +3 vs Cincinnati

Do yourself a favor and stay away from this one. Stay away in Vegas, stay away in fantasy leagues, and stay away if for some reason it's on television. And if this is the only game you get, well that's your fault for living in Ohio.
Houston +2 vs Tennessee
I continue to believe in Deshaun Watson and the Texans, who have looked pretty good outside of that terrible first half to start the season. Houston should have won in New England, and the offense is beginning to click. The Titans are banged up after a tough game against Seattle, and their pass defense has looked more than a little leaky. Houston needs this one to stay in a surprisingly tough division race.
Philadelphia -1.5 at Los Angeles Chargers
How long do we have to pretend the Chargers are decent? They were dominated by Denver Week 1 before a late push made it look close. They lost to a Miami team that was nearly shut out by the Jets a week later. They were dominated again by the Chiefs. The Eagles are good, and this Chargers "home" game is going to have more transplant Philly fans there than Chargers fans. Just take the better team.
Denver -2.5 vs Oakland
This one is fun, the game of the weekend, and Oakland needs a bounce back after an abysmal Sunday night showing in Washington. They had under a hundred yards of total offense and now face a Broncos defense that was historically good last season. Denver hasn't been as strong this year, but the offense is improved and the Raiders defense is still a sieve. This might be a toss up, but defense and home field give the advantage to the Broncos.
THREE TEAMS WITHOUT A RUN GAME
Carolina +9 at New England

There's plenty of reason to be concerned with Carolina's offense, especially with Greg Olsen and Kelvin Benjamin injured, but New England's defense has been even worse. The Patriots have allowed 95 points already, and two of those three games were at home against Alex Smith and a rookie QB. New England is the league's worst defense by a country mile, allowing 461 yards a game. Carolina is first at 252 yards allowed, 200+ fewer, and they lead the league in time of possession. That's the formula to keep this game close and give the Patriots trouble.
San Francisco +7 at Arizona
Listen, the Cardinals should not be a touchdown favorite against any team in the league and a handful of teams in Canada. They're on a short week after a lifeless home loss on national TV, and the 49ers had four extra days of rest after a game in which the offense finally showed some life. Take the Niners, but watch the President's Cup instead.
Tampa Bay -3 vs New York Giants
The standard -3 line for the home team means Vegas is calling these teams equal. We don't really know what Tampa Bay is yet, but the Giants are bad. They've played one good quarter out of twelve, outscored 57–13 outside of a brief fourth quarter explosion in Philadelphia that came up short anyway. Eli Manning looks old, and the Giants haven't had a run game in years. Ben McAdoo should be very worried.
TOO MUCH RESPECT FOR OVERACHIEVING TEAMS
Atlanta -8 vs Buffalo

The 2–1 Bills have been a pleasant surprise, yet to allow a passing touchdown through three games, but that seems certain to change this week against a Falcons team that averages 35.8ppg at home the last two seasons. Buffalo held its own against McCown, Newton, and Siemian, but Atlanta is something else entirely on its home fast track and it's difficult to see the Bills keeping up.
Minnesota -1.5 vs Detroit
There's no line yet because of Minnesota's uncertainty at quarterback, but apparently it doesn't matter who's under center. Case Keenum isn't good, but Sam Bradford isn't either, and this offense is making it work. The Vikings offensive line plays much better at home, and that should give Diggs and Thielen plenty of time to Cook. Detroit won both matchups last year on the game's final play, and Minnesota is ready for revenge.
Kansas City -6.5 vs Washington (Monday)
Chiefs! Redskins! It's the battle of offensive Native American team names on Monday night!! Kansas City continues to roll, with 25 wins in their past 29 regular season games. They've allowed just 14ppg at home during that stretch with one of the fiercest home field advantages in football, and Arrowhead will be rocking on its first Monday night game in three years. It's going to take a disciplined defense and a balanced attack to take down these Chiefs, and Washington offers neither.
IT'S THE QUARTERBACK, STUPID
New Orleans -3 vs Miami (London)

It's been 11 years since the spring of 2006, but you'll forgive Drew Brees for remembering it like it was yesterday. The Dolphins were coming off a 9–7 season looking for a new quarterback, and Brees was ready to leave San Diego for Miami. But the Dolphins chose Daunte Culpepper instead, a man who made just four starts for them. Brees has played all but two Saints games since 2006 and thrown for 54,630 yards, only six thousand fewer than Dan Marino. Brees hasn't forgotten Miami's choice. His Saints are 2–0 against Miami, and he's thrown for 700 yards and seven TDs and scored 84 points in those games. This week the revenge tour goes international.
New York Jets +3.5 vs Jacksonville
New York is actually trying, and its defense was dominant against a Miami team not short on weapons. Everyone's ready to buy into the Jags but their two wins have come in a wonky London game against a Ravens team we don't know is good yet and in the opener when Tom Savage laid a turd sandwich. The Jaguars beat the Texans by 22, and it was the only road win of Blake Bortles' career by more than two points. In fact, Bortles is 3–20 lifetime on the road. It would be just like the Jaguars to come home from a 44–7 smackdown and lose to the Jets.
Baltimore +3 vs Pittsburgh
Feels like these games are always close and coin flippy, so it's odd that Vegas would apparently favor the Steelers by six on a neutral field when they just lost to the lowly Bears. The Ravens were terrible in London, but they're a different animal at home. Believe it or not, Ben Roethlisberger has only won twice in his career in Baltimore, never by more than four points, and not since 2010. Pittsburgh's offense hasn't clicked yet, and there may be something rotten in the locker room. Take the Ravens.
WEEK FOUR BEST BETS
Green Bay -7 vs Chicago (Thursday)

Exactly what about this Bears team is keeping them within one score of Aaron Rodgers in Green Bay? The Packers have won 12 of 14 against the Bears, half of the wins by double digits. Forget three days rest. Green Bay could've won this game by ten if it started right after their last one.
Dallas -6.5 vs Los Angeles Rams
This is a little too much respect for the Rams, a team that's beaten up on a couple J.V. squads led by Pop Warner quarterbacks Scott Tolzien and Brian Hoyer. This line would've been 12 or 13 a month ago, and we haven't seen enough from either team to move it a full touchdown in L.A.'s favor. Looks like Dallas finally found its mojo Monday night in Arizona.
Seattle -13 vs Indianapolis
The Colts played two of the worst teams in football to a draw, losing to Arizona and beating Cleveland by three each. Guess how Jacoby Brissett is going to do in Seattle, just take a shot in the dark. And while you're making easy Sunday night money, flip over to ESPN for the Minnesota Lynx and Los Angeles Sparks battle in Game 4 of the WNBA finals. This is the equivalent of Warriors-Cavs with the league's best, loaded rosters and a huge rivalry that's won four of the last six championships. Minnesota came all the way back from a 28–2 deficit (take that, New England!) but was beaten on a last second shot in Game 1, then Los Angeles stormed back from a 45–26 halftime deficit in Game 2 before the Lynx held on late to tie the series. Every minute of this one will be more entertaining than Seattle and Indianapolis.
Week 3 record: 5–10–1
Season record: 16–29–3
Best bets: 6–4
Locks: 1–0