Unbalanced is powered by Vocal creators. You support
Richard Flynn
by reading, sharing and tipping stories...
more
Unbalanced is powered by Vocal.
Vocal is a platform that provides storytelling tools and engaged communities for writers, musicians, filmmakers, podcasters, and other creators to get discovered and fund their creativity.
How does Vocal work?
Creators share their stories on Vocal's communities. In return, creators earn money when they are tipped and when their stories are read.
How do I join Vocal?
Vocal welcomes creators of all shapes and sizes. Join for free and start creating.
To learn more about Vocal, visit our resources.
Show less
Sunday Morning Matchmaker
The Aftermath of UFC Fight Night: Atlantic City and What Should Be Next for Whom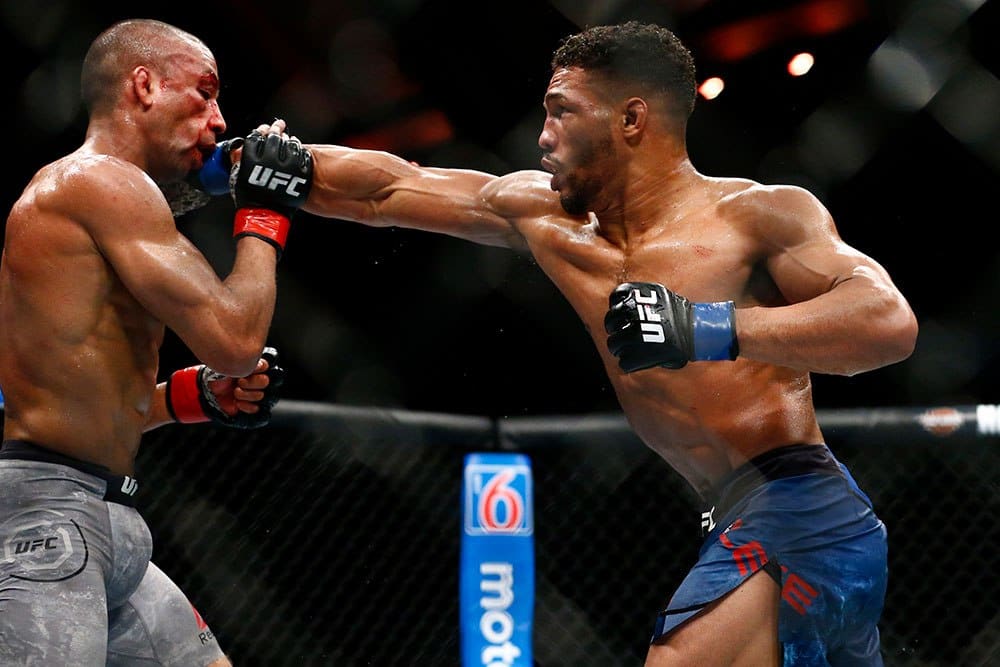 Last night, the UFC returned to Atlantic City, New Jersey for the first time since 2014 for UFC Fight Night: Barboza vs Lee. Despite a couple of fights falling apart at the last minute, the card was everything I had hoped it would be. There is a lot to talk about, but I would really like to focus on the Main and Co-Main events and what the outcomes of those bouts mean for the competitors involved as well as their respective divisions.
Let's start with the Co-Main. Frankie Edgar opted for the quickest turnaround of his career following his 1st round KO loss to Brian Ortega at UFC 222 in March, accepting a bout with Cub Swanson just six weeks after being finished for the first time in his career. Cub was coming off a submission loss in December to the same man who made short work of Frankie, Brian Ortega. From a rankings perspective, the fight made a lot of sense. Frankie entered the fight at #3 in the featherweight division, and Cub at #4. The two had squared off before in November of 2014 in what was a very long night for Cub Swanson. Frankie dominated him from bell to bell, eventually locking up a neck crank and forcing Cub to tap at 4:57 of the fifth and final round. Both men have improved dramatically since then and I think a lot of people were interested to see what kind of adjustments Cub would make as well as how Frankie would show up after being knocked out for the first time in his career. 
A lot of people didn't like the quick turnaround for Frankie. Honestly, I didn't love it either. In retrospect, I still think it was ill advised, but Frankie looked about as good as you would expect Frankie Edgar to look last night. Over the course of his career he has been Mr. Consistency, and this fight was no exception.
The first round seemed to be a bit of a feeling out process with neither man really finding a rhythm offensively. I personally scored the round for Frankie on aggression and octagon control, although Cub did manage to catch him with a spinning heel kick in the final seconds of the round.
Frankie came out a little more aggressive in round two, pushing the pace, getting in and out with his boxing combinations and looking to take the fight to the mat. That didn't happen once, though, as Cub managed to stuff all eight of Frankie's takedown attempts — a gigantic improvement from their previous bout. However, Cub appeared to be so hyper-focused on defending the take down and waiting on Frankie to make a move offensively so he could counter that he never really got his own offense going.
The third round was more of the same — Cub stuffing takedowns, Frankie pushing the pace and Cub waiting for opportunities to counter that never came. Cub's most successful moments in the fight came when he decided to push forward himself. He caught Frankie a few times with hooks and straight punches, but continued to fall back on his game plan to counter, and Frankie never gave him anything to work with. In the end, all three judges scored the bout 30-27 in favor of Frankie Edgar. 
So there are a few things to talk about here. First of all, this fight was extremely close. Frankie out-struck cub by a total of 10 in both the "Total Strikes Landed" department (60-50) and the "Significant Strikes Landed" department (58-48). He was a little more efficient with his striking and he controlled the cage for the majority of the bout. Honestly, though, I couldn't help but feel like I really wanted two more rounds of this fight. There just wasn't much finality to it — especially considering the tail end of the rounds when Cub became willing to push forward and create his own offense rather than sit back and wait for Frankie. It was clear that Cub could have made the fight a little more competitive — maybe even won it — had he been willing to take some risks. But regardless, Frankie got back in the win column with a hard earned win against a very game Cub Swanson. So what does this mean for both guys? What does it mean for the rest of the division? That's where it gets complicated.
#1 Contender Brian Ortega will lock horns with 145 pound champion Max Holloway in the co-main event slot of UFC 226 in July. The #2 featherweight, Jose Aldo (continue reading for why I think the UFC rankings are bullshit), is rumored to be booked for a show down with #5 Jeremy Stephens later that month. Frankie and Cub will likely retain their positions as #3 and #4 in the division when the rankings are revised later this week. So what does either guy do? Fight guys in the lower half of the top 10? To be honest, I'm not entirely sure. They've both fought a ton of times over the course of the last year and some time off would be good for both of them. I think the most logical thing to do is let the dust settle in that division. Frankie should await the winner of Holloway and Ortega, Cub should get the winner of Aldo and Stephens and the losers of Holloway/Ortega and Aldo/Stephens should fight each other. From the perspective of somebody who respects the hierarchy of a division, this is what I would like to see. Of course, that's in a perfect world and the UFC has been anything but predictable with it's match making since transferring ownership to WME-IMG. I'm curious to see how everything shakes out at 145 pounds over the course of the year.
Moving on to the main event of the evening - and good god, what a main event it was. In a division that is already log-jammed, two top 10 lightweights battled to stake their claim among the divisions elite - #6 Kevin Lee looked to rebound from a submission loss to Tony Ferguson in their interim lightweight title bout last year and #5 Edson Barboza looked to put the memory of a mauling at the hands of current champion Khabib Nurmagomedov behind him.
I knew Kevin Lee was good. I was impressed with his performance against an ever-dangerous Tony Ferguson last year, especially considering that Lee fought with a staph infection. I did not think Kevin Lee was going to win this fight. He missed weight, coming in 1 pound heavy at 157 (more on my thoughts on this later), and I was worried that this would translate into a poor performance due to his body not being able to recover from a particularly tough weight cut. I could not have been more wrong.
Round 1 started fast — both men more than happy to stand and trade for the early portion of it. I was impressed with Kevin Lee's striking — it's very, very good. He came out in a southpaw stance which is not typical of him, but dammit, he looked comfortable there. I was also, as always, amazed by the speed with which Edson Barboza gets his kicks off. Good God, is that man scary. Eventually, about half way through the round, Lee backed Barboza up against the cage and secured a very clean double leg takedown. Lee very quickly mounted him, and though Barboza was able to maneuver his way out of full mount, he had no answer for the top game of Kevin Lee. It was almost more terrifying to watch than the beat down that Khabib Nurmagomedov put on Barboza last December. Lee seems to generate more power on his ground 'n pound strikes than Khabib does. The bell sounded with Kevin Lee on top and Edson Barboza looking exasperated. 
Round 2 was nearly identical — Lee stood and traded for a couple of minutes before securing the take down and delivering vicious ground and pound. At the end of the round, I had this bout scored 20-16 for Kevin Lee.
Round 3, initially, more of the same. Lee came out willing to stand and trade with Barboza for the early portion of the round, and it caught him in the form of an Edson Barboza wheel kick to the temple which promptly had Kevin Lee doing the stanky-leg in the middle of the cage as he scrambled for a double leg takedown. I didn't count Lee out — but boy, it didn't look good for him. However, I think as fans we learned something valuable about Kevin Lee in this moment — the guy is a veteran who knows how to survive dangerous moments against dangerous opponents. Too often we see guys get rocked and they don't know what to do — often panicking and running into more shots that close the show on them. Lee managed to get a hold of Barboza's legs and get the fight to the ground where he managed to survive. I scored the round 10-9 for Barboza. My concern for Kevin Lee had essentially faded until the two men went back to their corners between round and the camera caught Kevin Lee asking his corner whether they were heading into the fourth or fifth round.
My concern quickly evaporated as round four got underway. Lee didn't stray from his game plan one bit despite the adversity he faced in the previous round. He stood and banged with Barboza for the early portion of the round, eventually secured the take down and resumed the brutal ground and pound. I scored this round 10-8 for Lee, and the bout to this point 39-34. I would have been okay with a corner stoppage here, especially considering the damage Barboza took in the aforementioned fight with Khabib.
Round five got going and Barboza fought on valiantly. He landed a couple of shots on Lee early on. Lee shot in for a double leg takedown, but Barboza eventually managed to shuck it off. The second the two separated from each other, referee Keith Peterson stopped the action to call in the cageside physician with regards to a nasty cut over the right eye of Edson Barboza. A Brief glance at the cut was all it took — the doctors called off the scrap and Kevin Lee earned himself a fifth round TKO victory en route to staking his claim among the Lightweight Elite.
*Big exhale.* WELL. That certainly complicates things in and already cluttered and hard-to-make-sense-of top 5 of the lightweight division. Where do I even begin?!
Before I do, I want to take a minute to talk about the legitimacy of the current rankings system and I think there's a lot to be discussed in both of the divisions I've covered so far. Let's start at featherweight.
According to the current rankings, the landscape at 145 is as follows:
#1- Brian Ortega

#2- Jose Aldo

#3- Frankie Edgar

#4- Cub Swanson

#5- Jeremy Stephens

I have one gigantic problem with this. I understand that Jose Aldo was the pound for pound #1 fighter in the world for a long time. I understand that he went almost a decade without losing a fight. I have a ton of respect for the things he's accomplished and the guys he's beat in the sport. He's done a lot in particular for the 145 pound weight class.
That being said, he's suffered knockout losses in three of his last four fights including his last 2 times out (Conor McGregor, Max Holloway x2). At some point, we have to stop honoring a fighters past accomplishments and acknowledge where he stands with relevance to the current state of the division. If I could revise the rankings myself, they would look like this:
#1- Brian Ortega

#2- Frankie Edgar

#3- Jeremy Stephens

#4- Cub Swanson

#5- Jose Aldo

As far as what's next for the top 5 145-pounders, Holloway and Ortega have been confirmed for the co-main event slot at UFC 226 in July. Aldo and Stephens are rumored to be set for a main event clash at UFC on Fox 30 later that month. The rankings will be revised this week and I find it hard to imagine a world in which Edgar and Swanson don't retain their #3 and #4 slots. So where do these guys go from here?
If I had it my way, Frankie Edgar would get a shot at the winner of Ortega and Holloway for the featherweight title. Cub Swanson would get the winner of Aldo and Stephens. The losers of those respective bouts would square off with each other. I think this makes sense because Frankie has been slotted to fight Max twice now — first at UFC 218, where he pulled out due to an injury sustained in training — and again at UFC 222, where Holloway pulled out for the same reason. Frankie has won three of his last four and eight of his last ten. Nobody shows up as consistently as this guy.
Cub showed dramatic improvements compared to his last time out against Frankie and I think is deserving of a top 5 slot, but he's on a two-fight skid and if he wants to keep that spot, I think he needs to earn himself that ever-elusive top 5 win. The the winner of Aldo and Stephens would make sense.
If that confuses you, wait until I get into the thick of the lightweight division!
Three consecutive Saturdays, we have been treated to main events featuring top 10 lightweights. On April 7, we saw Khabib Nurmagomedov capture the lightweight title that was stripped of Conor McGregor due to inactivity in a phenomenal performance against an extremely game Al Iaquinta, who took the fight on just 18 hours notice and performed much better than almost anybody anticipated. This happened after Tony Ferguson, who was the interim lightweight champion, pulled out of the bout due to sustaining a serious knee injury in a freak accident just 9 days before the bout was scheduled to take place, and Max Holloway, the current Featherweight champion who was slated to replace Tony Ferguson and take his shot at Lightweight gold, failed to make weight on Friday morning, just a day and a half before the fight.
Last weekend we got our front-runner for Fight of the Year when Justin Gaethje and Dustin Poirier clashed in Glendale, Arizona. Poirier withstood a ton of abuse, particularly in the form of brutal leg kicks, but he weathered the storm and shut the lights out on Gaethje early in the fourth round. And then, last night happened. Boy, oh boy, is 155 interesting right now!
So, about those rankings...
Currently, the Lightweight division is ranked as follows:
Champion- Khabib Nurmagomedov

#1- Conor McGregor

#2- Tony Ferguson

#3- Eddie Alvarez

#4- Dustin Poirier

#5- Edson Barboza

Now, keep in mind that at the time of this writing the rankings have not been updated to reflect the results of last nights event. I imagine that Barboza will be dropping to #6 and Kevin Lee will take his spot at #5.
My first issue with this:
Three weeks ago Tony Ferguson was being considered a world champion, as he won an interim title in Conor McGregor's absence and it was understood that McGregor would be stripped of the title and the winner of Ferguson vs. Khabib would be the undisputed champion at 155 lbs. So how does he drop a slot below Conor McGregor, a guy who hasn't fought in a year and a half, when he's on a 10 fight win streak?! I don't get it.
My second problem with this is Eddie Alvarez being ranked #3. In Eddie's last three fights, he was knocked out by Conor McGregor in the second round of a fight that was far from competitive, then was blessed with a ruling of "no contest" against Dustin Poirier in a fight that should have been considered a disqualification and therefore a loss due to illegal knees to the head of a grounded opponent, and then he earned a 3rd round knockout over Justin Gaethje in a fight that was very closed to being stopped in favor of Gaethje as Alvarez could barely stand after suffering a barrage of kicks to his lead leg.
Listen — Eddie Alvarez is a world class fighter, and certainly a top 5 guy. He's defeated some tough, tough dudes, including Michael Chandler, Anthony Pettis and Rafael Dos Anjos. He's a former champion both in the UFC and Bellator. But we've got to be realistic about ranking guys — what have you done for me lately?
Dustin Poirier has won seven of nine since moving up to lightweight — eight of nine and four straight if you count the Alvarez fight, which should have been ruled a disqualification. Kevin Lee has won six of seven (including his annihilation of Edson Barboza last night), his only loss being a very competitive scrap against Tony Ferguson for the interim lightweight belt. Worth noting that Lee fought Ferguson while battling a staph infection.
That being said, here's how I see the lightweight division:
Champion- Khabib Nurmagomedov

#1- Tony Ferguson

#2- Conor McGregor

#3- Kevin Lee

#4- Dustin Poirier

#5- Eddie Alvarez

Tony Ferguson will likely be out for the remainder of the year rehabilitating his knee injury. Conor McGregor will likely be offered to fight Khabib when he returns later this year, as he never lost his title, but was stripped of it due to inactivity. Dustin has been calling for a re-match with Eddie Alvarez ever since their fight almost a year ago. Eddie has reportedly turned that fight down on five different occasions. So what's next? What makes sense? 
It's really difficult to say at this point. I would love to see Poirier and Alvarez run it back so that we can get some finality to that saga. I would also love to see Poirier take on Kevin Lee. I want to see if Kevin Lee's wrestling can out-do Khabib's. I want to see if Dustin can beat Khabib. I want to see Dustin rematch Conor (the two fought at Featherweight in 2014). All of these guys are interesting match up's for Ferguson in his return to the octagon. What about Al Iaquinta? He's ranked #10 but only because he hasn't fought frequently over the course of the last five years. He gave Khabib a hell of a fight and is certainly top 5 worthy. So I don't know what's next. I do know that I can not wait to see how this division shakes out — although I'm starting to get the feeling that we're going to have to wait until 2019 to figure all of this out.
One last thought: The UFC allows fighters to weigh in one pound heavy for non-title bouts (Lightweights can weigh in as heavy as 156, Featherweights 146, etc). Kevin Lee weighed in at the last minute on Friday and hit the scale at 157 with too little time to cut the extra pound. As a result, he sacrificed 20 percent of his earnings from the bout to his opponent. A lot of people on social media are making a huge deal about it, so I figured I would weigh in (see what I did there?).
Yes, Kevin Lee missed weight. Yes, it's unprofessional. He made an agreement with the UFC to weigh a certain amount at a certain time on a certain day and he failed to do so. We should not be OK with that. I don't think Kevin Lee is OK with that. However, if you think weighing in one pound heavy made any kind of impact on the way the fight went down, you are absolutely out of your mind. Kevin Lee mauled Edson Barboza and the weight cut had absolutely nothing to do with it. I don't believe it's a mistake Kevin Lee will make again and I would be confident in his ability to make 155 moving forward if I was a matchmaker.
To summarize:
Mixed Martial Arts is the craziest sport ever. Anything can happen on any given night. 2018 has gifted us with some incredible performances so far, and it's only April. Last night's event left me with more questions than answers. Hopefully the remainder of the year brings some clarity to the 145 pound and 155 pound divisions, but regardless of how everything shakes out, it's a really — I mean REALLY — good time to be a fight fan.