Unbalanced is powered by Vocal.
Vocal is a platform that provides storytelling tools and engaged communities for writers, musicians, filmmakers, podcasters, and other creators to get discovered and fund their creativity.
How does Vocal work?
Creators share their stories on Vocal's communities. In return, creators earn money when they are tipped and when their stories are read.
How do I join Vocal?
Vocal welcomes creators of all shapes and sizes. Join for free and start creating.
To learn more about Vocal, visit our resources.
Show less
My 2018 MLB Season Predictions for the National League
Here are my 2018 MLB season predictions for the National League!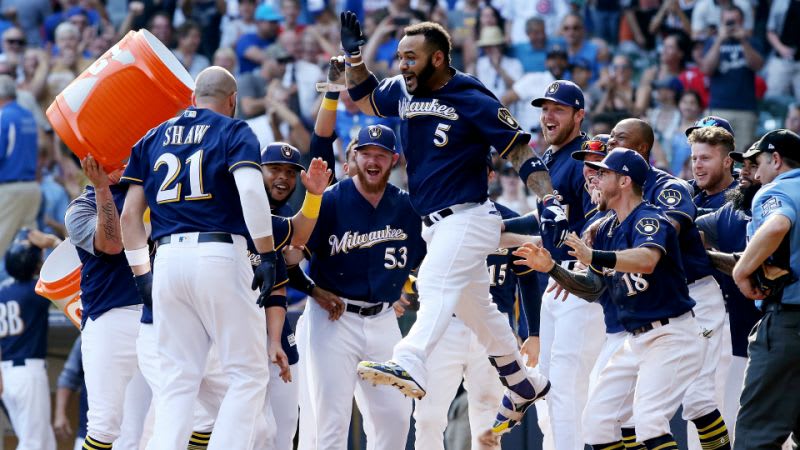 The 2018 MLB season has started yesterday and 30 teams all have the hope of playing deep into October and win a world championship. The offseason was made with some significant moves and some teams come into the new season with big aspirations. Who will come on top this year? Who will disappoint? It's now time for my 2018 MLB season predictions. Let's continue with the National League.
National League East:
1. Washington Nationals
It's now or never for the Washington Nationals. After another disappointing exit in the division series last year, the Nationals cannot fail again in 2018. The main reason is that it's the last contract year of their star player Bryce Harper and it's not sure if the Nats really want to sign him to a long-term contract. They have an urgent need to win this season because the future is uncertain there. The Nationals should again be dominating the East this season and they are good everywhere. Also, add that they have a new manager in Dave Martinez and you have now everything for a great season in DC. We all know that this team can be good in the regular season. The real judgment will come in the postseason again for them.

2. Atlanta Braves
The Atlanta Braves will be clearly in a rebuilding mode again in 2018, but the progression could come way faster than expected. They had good moments in 2017 and this should be the case again this season. Their young players like Dansby Swanson, Sean Newcomb, and Ozzie Albies will continue to grow and have a key role in the ascension of the team. This will not be enough to make the postseason again, but this will be good for 2nd place in the East because the Braves are better than the other three teams.

3. New York Mets
It's hard to figure out where the Mets are really going in 2018. They have one of the oldest rosters in the majors and they will count on veteran players a lot to try to make the postseason. They add the veteran first baseman Adrian Gonzalez, and they also have Jay Bruce back. The biggest question for the Mets will be, again, their starting rotation. We know that they have talented pitchers like Steven Matz and Noah Syndergaard, but can they stay healthy for all the season? If so, the Mets could fight for a wild-card spot.

4. Philadelphia Phillies
The long rebuilt process is about to be complete in Philadelphia. This team is full of talented young players and they should be fun to watch this season. They add a couple of good veterans like Jake Arrieta and Carlos Santana and they have a new manager in Gabe Kapler. Kapler is a young manager who is not afraid of bringing new ideas on the table like using an outfield shift in the training camp. Look out for the Phils in 2018.

5. Miami Marlins
There is not much to say about the Miami Marlins other than they are in rebuilding mode again. New owner Derek Jeter get rid of star players Giancarlo Stanton and Marcell Ozuna and he sends a clear message to the fans there. Patience is gonna be key for the Marlins in 2018 and I expect them to have one of the worst records in the majors.

National League Central:
1. Chicago Cubs
After a more difficult season in 2017 following their 2016 World Series Championship, the Chicago Cubs are ready to be back as one of the best teams in the league in 2018. Their lineup is full of talented players who are still young but have more experience than in the past. I expect a great season from guys like Anthony Rizzo, Kris Bryant, Kyle Schwarber, and Addison Russell. Their starting rotation is still very good, led by veteran Jon Lester, and their bullpen is better with the addition of Bradon Morrow, Steve Cishek, and Drew Smily as free agents. Another World Series in Chicago?

2. St. Louis Cardinals
The St. Louis Cardinals are always one of the most consistent teams every year. They missed the postseason in the last two years, but they should get back in it as a wild-card team in 2018. The addition of Marcell Ozuna from the Miami Marlins will help the team scoring more runs. They now have a dangerous hitter in the lineup for the first time since Albert Pujols.

3. Milwaukee Brewers
The Brewers almost made the playoffs last year but they just fell short at the end of the season. They should be in contention again this year with pretty much the same team as last year. Their biggest additions are Lorenzo Cain and Christian Yelich. They should help to dynamize this lineup a bit and they will keep the Brewers in the wild-card race. The only question mark is how the starters will do. After Chase Anderson and Zach Davies, they don't really have much deep. I don't believe in Brent Suter and Jhoulys Chacin. They will give score more runs than last season, but they will give more too.

4. Cincinnati Reds
The rebuilding process will continue for the Cincinnati Reds in 2018. They have a couple of good young players and especially in the rotation with Luis Castillo, Tyler Mahle, and Sal Romano. They will also count on veteran Joey Votto to lead the way and the scoring runs. I expect the Reds to continue to progress but not enough to fight for a playoffs spot again this year.

5. Pittsburgh Pirates
The Pirates are now entering in complete rebuilding mode in 2018 after trading their franchise player Andrew McCutchen to the San Francisco Giants. I don't expect much for the Pirates this season and they could continue to let go some veterans later at the trade deadline if things go really bad.

National League West:
1. San Francisco Giants
It's was a disastrous season for the San Francisco Giants in 2017. Fortunately for them, they made some big changes in the offseason and this could pay off for them. The addition of Andrew McCutchen and Evan Longoria will completely change everything for the Giants. They now have a complete lineup with players like Buster Posey, Brandon Crawford, and Joe Panik who will be able to support McCutchen and Longoria very well. The challenge for San Francisco will be to have a good start to their season without Madison Bumgarner. If their key players stay healthy and I think it will be the case, the Giants will surprise everyone and finish first in the West in 2018.

2. Los Angeles Dodgers
Things should be a little bit more complicated for the Los Angeles Dodgers in 2018. After dominating the regular season and falling one win away short of a World Series title in 2017, the Dodgers should have a harder time to repeat this season. They have again a very good team but I feel like some of their key players who were so great last season like Cody Bellinger will disappoint. Still, the Dodgers will make the playoffs again but as a wild-card team.

3. Colorado Rockies
The Rockies kind of surprised everyone last year by making the postseason as a wild-card team. This should not be the case in 2018. They add good pieces in the bullpen with Bryan Shaw and Wade Davis, but I don't feel like it will be enough to make the playoffs again. The biggest question is always to know if the starters could limit the opponent.

4. Arizona Diamondbacks
The lost of JD Martinez will be enormous for this team in 2018. They will have trouble scoring runs and this is why they will miss the postseason this time around. I don't believe in the addition of Alex Avila and Steven Souza and they won't be able to produce enough to make up for the loss of Martinez. Add the fact that Fernando Rodney is their number one closer and you have the best recipe for a tough season in the desert.

5. San Diego Padres
Every year seems like the same for the San Diego Padres. They add a couple of veterans in the hope of making a push for the postseason but this is never working for them. They don't really have good young prospects who are coming to save them and this is not the return of Chase Headly who will solve the problems of the Padres. They will finish with the worst record in the entire league in 2018.