Unbalanced is powered by Vocal creators. You support
Nikki Gaskins
by reading, sharing and tipping stories...
more
Unbalanced is powered by Vocal.
Vocal is a platform that provides storytelling tools and engaged communities for writers, musicians, filmmakers, podcasters, and other creators to get discovered and fund their creativity.
How does Vocal work?
Creators share their stories on Vocal's communities. In return, creators earn money when they are tipped and when their stories are read.
How do I join Vocal?
Vocal welcomes creators of all shapes and sizes. Join for free and start creating.
To learn more about Vocal, visit our resources.
Show less
HowUdish Teams Up with Top Pro Athletes to Inspire Users to Eat like a Champion
Ever wonder what your favorite professional athlete eats to stay in such amazing shape? Now you can with HowUdish, the social network that connects users with meals that match their nutritional lifestyle.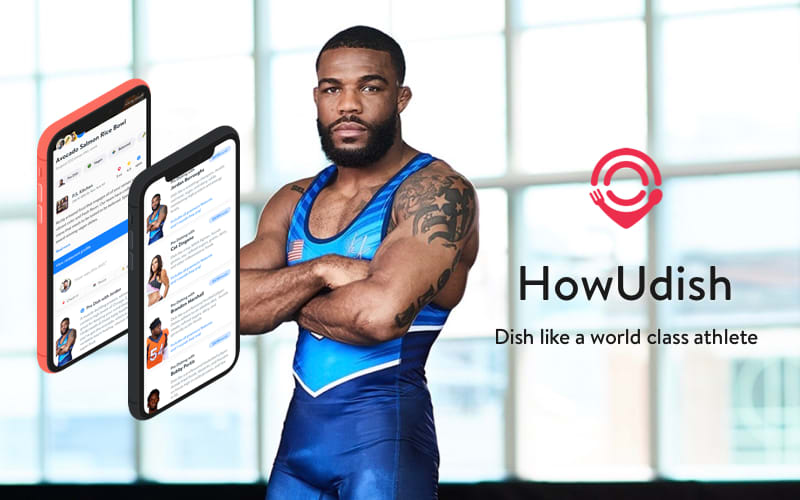 BROOKLYN, NEW YORK— Individuals whose New Year's resolution is to eat healthier and say "no" to processed foods and refined sugar can soon draw meal inspiration from some of their favorite professional athletes. HowUdish is partnering with professional athletes and olympians to change the way users think about food. The app announced its partnerships with Dani Speegle (Competitive Fitness Athlete), Brandon Marshall (NFL), Bobby Portis (NBA), Jordan Burroughs (wrestling), Cat Zingano (MMA), and Queen Harrison (track and field) today.
"We are so thrilled and fortunate to be working with these athletes," stated Michael Gayed, HowUdish founder. "These athletes will be posting regularly about their pro dish-style on their social media accounts and within HowUdish itself. This is something that has never been done before, so we are excited to be able to offer our users something so unique."
Through the HowUdish app, users can subscribe to their favorite athletes to easily learn what meals they consume when dining out to stay in shape. Dani Speegle is looking forward to sharing healthy food habits and tips with followers.
"I've constantly been asked what my diet is like and how I balance it with my social life, and going out to eat at restaurants," stated Speegle, a competitive fitness athlete. "After working with clients on their nutrition, a common theme continuously appeared—people would always go off track whenever they ate out and away from home. This seemed to cause the most issues, and I can't wait to help people make smarter and healthier choices when it comes to fueling their bodies; especially during the times when 'life gets in the way.'"
Queen Harrison agrees.
"I am excited to partner with HowUdish to give insight into how I eat to be successful and especially to help provide better options for young athletes and runners while traveling with their sport team. Following my HowUdish profile can provide great help for many student athletes' meal selection that both they and their parents can feel confident in how they fuel their bodies, even on the road for competitions!"
HowUdish is a dish discovery social network that connects users to dishes based on their nutritional lifestyle. The app is free to use, however, for a small monthly fee users can subscribe to HowUdish profiles of professional athletes who also use HowUdish. The subscription gives users the ability to see and mirror athletes' favorite restaurant meals.
"This app allows for me to combine two of my favorite things — food and social media. For the first time ever, you can connect with your favorite athletes and follow their meal plans. You'll be able to see which restaurants they're eating at and what dishes they're ordering. It's a game changer for anyone who is health conscious but also likes to eat out," 
Stated gold medal wrestler Jordan Burroughs who avoids sugar, red meat and dairy while maintaining high protein and energy levels.
For individuals who want to avoid gluten, soy, refined sugars, grains, dairy and other inflammatory foods, they may want to subscribe to Cat Zingano's diet. For those who want to avoid fried foods, desserts and focus on foods high in carbs/protein and low in fat, they may want to follow Bobby Portis.
"I'm excited for the opportunity to partner with HowUdish and give individuals insight to my nutritional regimen so they too can eat like a professional athlete when eating out," stated Portis.
Brandon Marshall, who plays professional football as a starting middle linebacker, adheres to an alkaline diet and avoids meats, refined sugars, dairy and acidic foods.
"I know the diet has been helping me get to the top of my game. I'm excited to see other people get into it through HowUdish," stated Marshall.
Since its launch in late 2017, HowUdish has helped users find dishes suited to their tastes and nutritional lifestyle, especially when eating out. Following a recent update to the platform, users can now use the app to network with like-minded individuals who share the same interests in health, food, and nutrition. The app's new "Dish Together" feature even makes it possible for users to find romantic connections based on a shared affinity for healthy eating.
Using the HowUdish app is free. To learn more about the social networking app for food lovers and health enthusiasts alike, visit the HowUdish website—and find the dish that's fit for you! The app can be downloaded on the Apple App Store.