Unbalanced is powered by Vocal creators. You support
Bryson Lowry
by reading, sharing and tipping stories...
more
Unbalanced is powered by Vocal.
Vocal is a platform that provides storytelling tools and engaged communities for writers, musicians, filmmakers, podcasters, and other creators to get discovered and fund their creativity.
How does Vocal work?
Creators share their stories on Vocal's communities. In return, creators earn money when they are tipped and when their stories are read.
How do I join Vocal?
Vocal welcomes creators of all shapes and sizes. Join for free and start creating.
To learn more about Vocal, visit our resources.
Show less
Eight Week 2 Wide Receivers to Draft in DraftKings
(And Three to Avoid)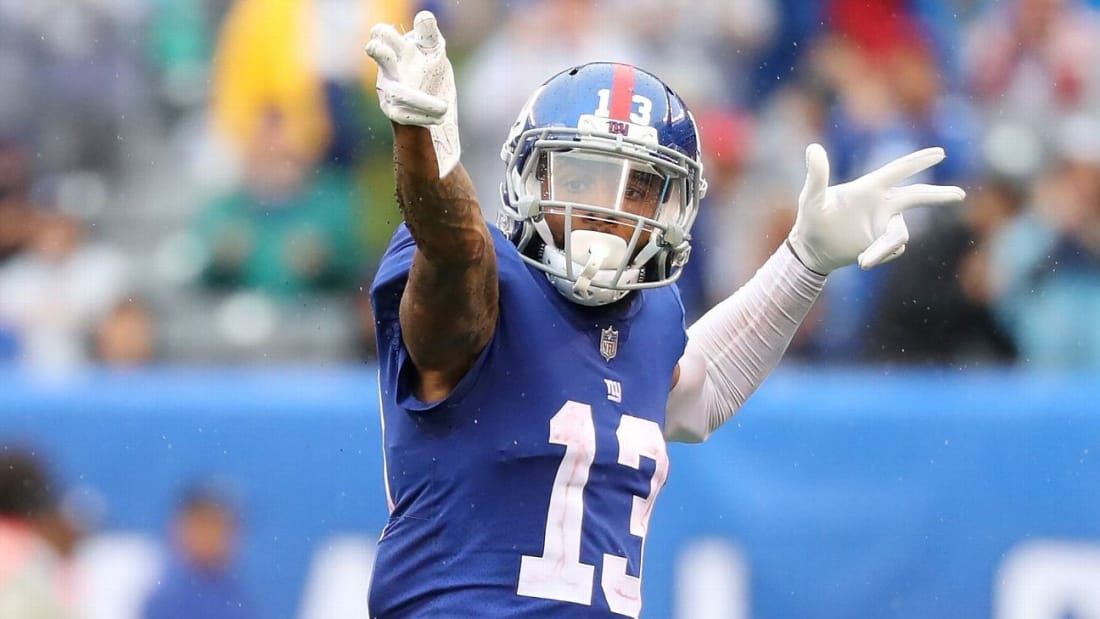 We've already looked at three quarterbacks and five running backs to consider drafting this Sunday and today, we'll be looking at eight wide receivers. Undoubtedly, the bread and butter position in any PPR format and especially so in DraftKings, competitive, prolific receivers are expensive. You'll need to choose four (at least three and a flex, we highly recommend using a WR in your flex) to finalize your roster on Sunday. Adding budgetary players at other positions will leave you with about $6,200 for all four of your roster positions and every dollar will count. Here are eight receivers with favorable matchups this week or go-to receivers on prolific offenses that are bound to have big days. Whatever gets you the most bang for your buck.

1. Odell Beckham Jr. ($8,500) @DAL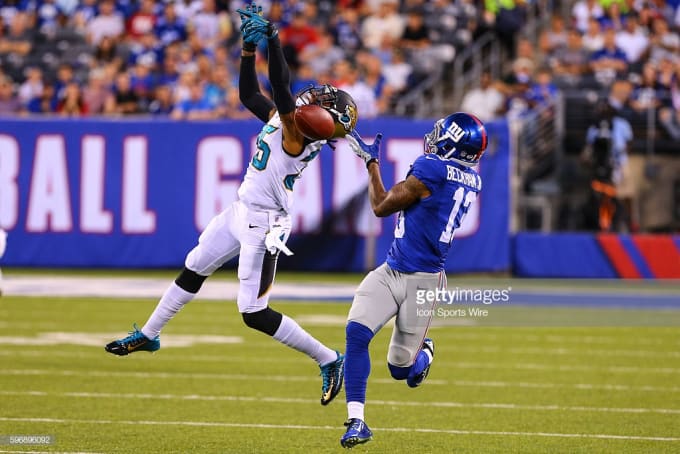 Beckham had 11 catches for 111 yards in his first game since signing a monster contract and coming off a monster injury. Beckham seems more mature this go around matching up well and maintaining composure last week against a towering Jalen Ramsey. Beckham has an easier, more familiar test this week visiting Dallas but Beckham notoriously gets the better of a weaker Cowboys secondary and will undoubtedly be a handful this week as well. A steep price of $8,500 but Beckham is such a focal point of the offense, he's well worth the spend.

2. Adam Thielen ($7,100) @GB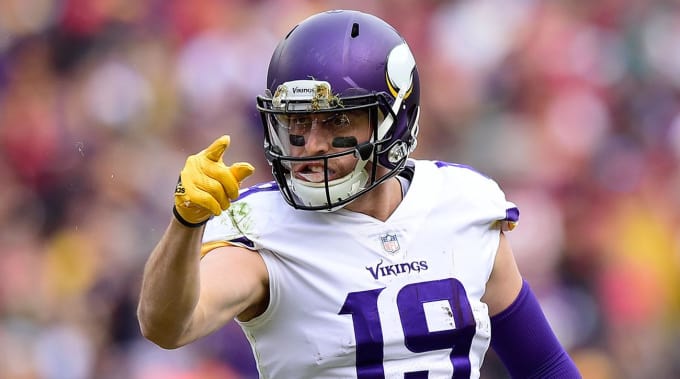 Thielen had six catches for 102 yards scorching an underperforming 49er secondary. QB Kirk Cousins has clearly found his new favorite target as Thielen has consistently outpaced Stefon Diggs for targets and receptions all preseason and Week 1. The Packers have a fairly formidable secondary but the team is currently in disarray with the Rodgers injury and their usual game plan of chewing up the clock may not work if Deshone Kizer suits up. Expect Thielen to perform well in the cracks on this one and put up numbers, easily justifying his high price tag.

3. TY Hilton ($6,700) @WAS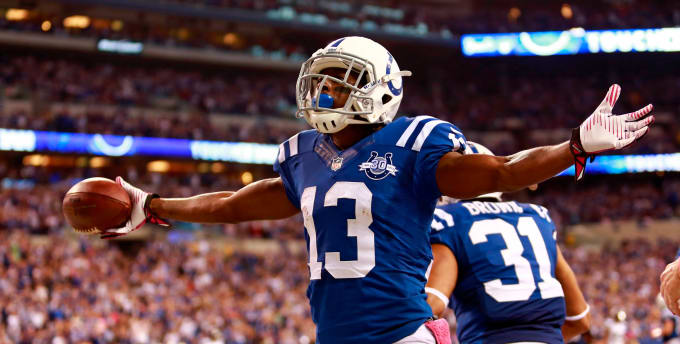 Hilton had five catches for 46 yards and a touchdown in Andrew Luck's return. Luck had 53 attempts due to the lack of a run game and that's not likely to improve any time soon. Four different Colts had at least nine targets so Luck is definitely spreading the love but Hilton still outpaced them all and remains the go-to receiver moving forward. The Redskins don't have anyone that can match up speed wise with Hilton and expect him and Luck to take advantage.
4. Golden Tate ($6,500) @SF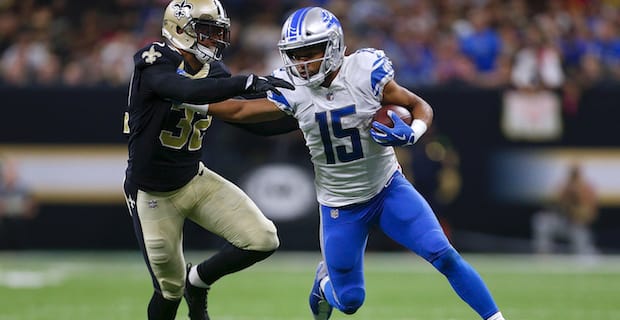 Tate had seven catches for 79 yards and a touchdown. Matthew Stafford struggled greatly, throwing four INTs to the Jets stingy defense but Tate still looked good throughout his teams struggles. Still Stafford's favorite and most trusted target, Tate and co. will fare easier this week when they visit a non-threatening 49ers secondary. Expect Stafford to level out a little bit and Tate's numbers to keep going up because of it. At slightly above salary, Tate keeps average numbers in place while still adding a little FPPG bang.
5. JuJu Smith-Schuster ($6,400) vs KC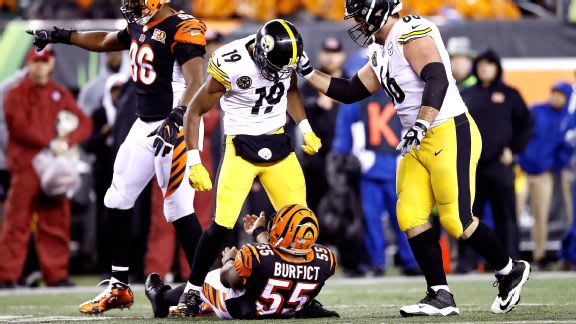 Smith-Schuster had five catches for 119 yards. The second year Steeler was second in targets but will factor into being a huge part of the prolific offense going forward. With James Conner stepping into lead back roles and Antonio Brown collecting double teams expect JuJu to outperform against a paltry Chiefs secondary. Ju Ju is slightly above budget but is a smart play to allow wiggle room in other places on the final roster.
6. Demaryius Thomas ($5,600) vs OAK
Thomas had six catches for 63 yards and a touchdown against a suddenly weak Seahawks defense. Fellow wideout Emmanuel Sanders led all receiving categories in Case Keenum's debut but Thomas is still the go-to guy in Denver. Keenum is expected to vault Thomas' value again and with the reeling Oakland defense coming to town, this is a perfect opportunity for Thomas to return to form. Thomas is a smart under budget play here.

7. Allen Robinson II ($5,600) vs SEA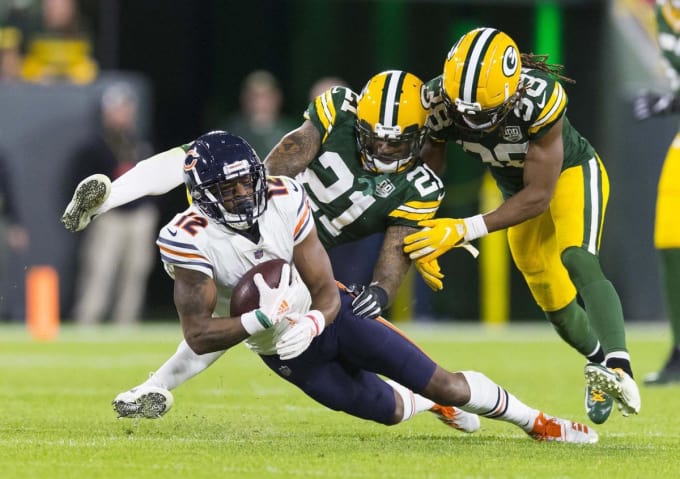 Robinson had four catches for 61 yards against a stingy Packers secondary that smothered him. Robinson was all over the field trying to get away from Green Bay and make some plays and led the team in targets and receptions because of it. A good sign moving forward as far as usage and volume is concern and with a home tilt against a depleted Seahawks secondary,  expect higher volume than last week and Robinson to greatly outplay his price tag.

8. Ted Ginn Jr. ($4,800) vs CLE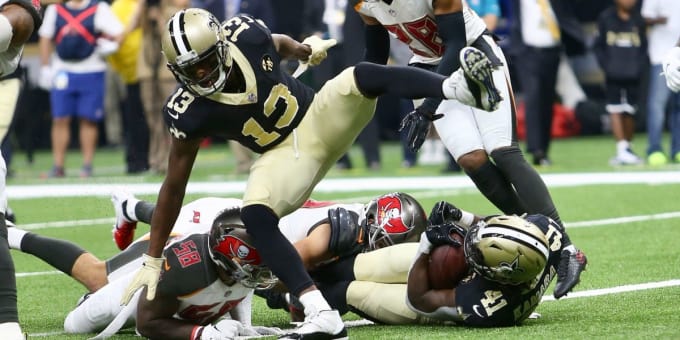 Ginn had five catches for 68 yards and a touchdown, but enters this week not practicing after sustaining an injury in last weeks loss to the Bucs. So why is he up here? He still managed to play 50 of the 64 offensive snaps and didn't seem to slow down; he sat out Wednesday's practice as a precaution but was fully available for Thursday. Being Brees second favorite target comes with its perks and Ginn will experience those in spades against a weak Browns secondary. the Saints have too many weapons and the Cleveland defense will be spread too thin to cover the likes of Ginn. Expect huge numbers at an inexpensive price tag.

Three Receivers You Should Avoid
1. Julio Jones ($8,400) vs CAR
Jones had 10 catches for 169 yards in a loss against the Super Bowl champion Eagles. Jones dominated any and all defensive backs he faced especially in the fourth quarter, but Carolina has an equally good if not slightly worse secondary than the Eagles. All that should bode well for Jones, right? Jones will still put up numbers but will undoubtedly be double teamed all game, adding dangerous liability to an already steep price tag. He's cheaper than Odell by $100.

2. Tyreek Hill ($7,600) @ PIT
Hill had seven catches for 169 yards and 2 touchdowns against the Chargers. So why is he in the do not draft column? Those impressive numbers are likely to deflate against the stifling Steeler defense. We're actually avoiding any and all Chiefs this week as Andy Reid's game plan will fall more conservative to chew up the clock to keep the Steelers offense off the field. Tyreek is such a dynamic player and the number 1 touchdown generator for the Chiefs but expect a small drop in production due to usage concerns and that doesn't bode well for such a steep price.

3. Mike Evans ($7,300) vs PHI
Evans had seven catches for 147 yards and a touchdown in Ryan Fitzpatrick's historic game; Evans, the #1 target, saw an unexpected uptick in production due to the sheer size of numbers. Expect a return to form against the much more modest Super Bowl Champion secondary. Evans will be the Eagles favorite subject this week and wont come anywhere close to the kind of numbers Julio Jones put up last week, which isn't a good thing. Despite Evans 100 percent reception rate, Evans cant catch everything again and may be a little too expensive for his expected output this week.
*
We've covered the important positions. Come back tomorrow to find ways to save where it matters most when we discuss Two Tight Ends to Draft (and one to avoid) as well as Two Defenses With The Most Upside (and the one that doesn't).