Unbalanced is powered by Vocal creators. You support
Isaac Johnson
by reading, sharing and tipping stories...
more
Unbalanced is powered by Vocal.
Vocal is a platform that provides storytelling tools and engaged communities for writers, musicians, filmmakers, podcasters, and other creators to get discovered and fund their creativity.
How does Vocal work?
Creators share their stories on Vocal's communities. In return, creators earn money when they are tipped and when their stories are read.
How do I join Vocal?
Vocal welcomes creators of all shapes and sizes. Join for free and start creating.
To learn more about Vocal, visit our resources.
Show less
Braves Country
A Love Letter to My Hometown Team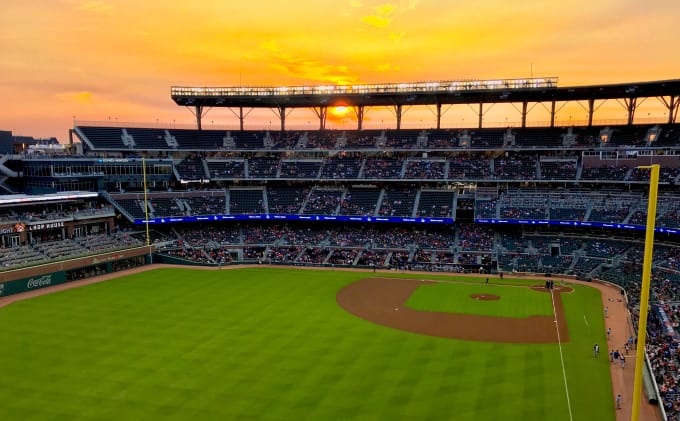 America's team, The team of the 90s, the Bravos, the Atlanta Braves. My grandfather's team, my father's team, my team. 
I grew up during the Chipper reign, starting at the tail end of the Braves's 14 year success, but that didn't stop me from being a loyal fan for years to come. Chipper is my favorite player, Smoltzie is my favorite pitcher. The Ted is my favorite ballpark.
I remember my first game. The year, 2003. I went with my grandpa, father, and older sister. My dad was wearing a green shirt. We sat in left-center, I believe. It was a great experience for me and cemented my love for the team for the rest of my life. I've seen many more games with both of those men over the past 15 years, and I'm very blessed to still have them both. 
When I was about 13, the Braves were all I had. I'd watch the games every night they were on. My grandpa had bought my dad a couple of the VHS tapes back in the 90s: "Lightning Strikes Twice!" from '92 and the World Series Champions tape from '95. I basically knew the names of all the players that played a few years before I was born. I can hear the music in my head now. I know that the Braves played the Rockies and the Reds before the Indians in '95. I know Odis Nixon was suspended in the beginning of the 1992 season. I know that Fred McGriff hit a ball that caught fire in '93 in Toronto. I can hear the call from Skip in my head. "Swung line drive left field. One run is in. Here comes Bream! Here's the throw to the plate, he is.. SAFE! BRAVES WIN! BRAVES WIN! BRAVES WIN BRAVES WIN! BRAVES WIN! BRAVES. WIN." 
I remember hearing Don Sutton calling the game on the radio riding to get ice cream with my grandpa. I remember when they introduced the red Sunday uniforms. I remember a lot of things about the Braves, or at least things connected to the Braves in my memory. 
My love of the game was furthered when I visited Cooperstown with my grandpa and dad. I thouched Lou Gerig's locker. I saw Doubleday Field with my own eyes. It was paradise for a kid who loved baseball. I'll always remember that and seeing some Braves legends immortalized was great. I'd love to go back now that Glavine, Maddox, Smoltz, Cox, Shurholtz, and Chipper are members/future members. 
Even though the Braves haven't won the division in years, I still loyally watch them year after year. I truly believe that they have a good team that just hasn't reached their full potential. Dansby Swanson can be the next Chipper in terms of popularity and performance. Everybody loves Freddie. Ender is a solid player as well. There's just something missing from the equation that prevents us from winning. Over the past two seasons, the Braves have played well after the All Star break, but our April's have been so bad that we can never catch up with the Nationals by the end of the season. I hope this year is a different story. 
Win or lose, the Braves will always be my favorite team, not just in baseball, but all of professional sports. Of course, things change. I miss the Ted, but love SunTrust. I miss Chipper, Hudson, McCann, Ross, Kimbrel, Heyward, Prado, Simmons (that infield fly rule call excluding...), I miss all of those guys. But I love how young and passionate our team is now. I can't wait to see what the future holds for the Bravos. 
Isaac