Unbalanced is powered by Vocal creators. You support
Johnson Bernard
by reading, sharing and tipping stories...
more
Unbalanced is powered by Vocal.
Vocal is a platform that provides storytelling tools and engaged communities for writers, musicians, filmmakers, podcasters, and other creators to get discovered and fund their creativity.
How does Vocal work?
Creators share their stories on Vocal's communities. In return, creators earn money when they are tipped and when their stories are read.
How do I join Vocal?
Vocal welcomes creators of all shapes and sizes. Join for free and start creating.
To learn more about Vocal, visit our resources.
Show less
Biggest College Bowl Game Upsets Ever
A little bit of history blended with a variety of mixed emotions, from the likes of anger and despair, to victory and joy, these college bowl game upsets made most viewers a tad bit salty, and surprised nonetheless.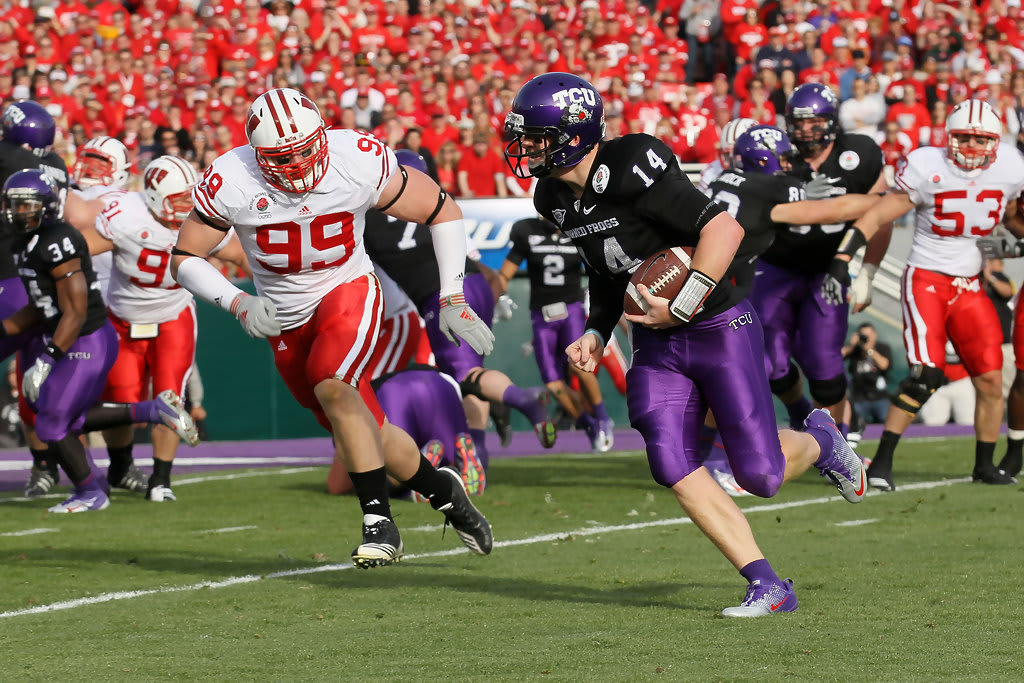 First introduced in the 1902 Tournament East-West football game, wherein Michigan clobbered Stanford 49-0, the Rose Bowl would then on take form over their years of continued bouts, next witnessed in the 1916 Tournament East-West Football Game and then given its official title in the 1923 game played in their newly-rendered Rose Bowl stadium. While the iteration of the "bowl" game then took root due to this new shape of the facility, not all of the games would be played in bowl-shaped stadiums as the title appropriates. Interestingly, the initial bowl games took place starting in warmer climates and easier areas of traversal. This meant that states like Texas, South California, and Florida were all among original bowls, and since commercial air travel had yet to make a lasting effect until the 1970s and 1980s, much of these games were played well beyond the regular season so fans could make the travel. 
Nowadays, bowl games like these not only bring in boatloads of cash from ticket sales and merchandise, but even seem to wrangle an entire country together into various team affiliations; the brightest gleams within the college football spotlight. Each and every season, questions of who is this year's dark horse of college football seem to get raised with no inkling as to who that team may be until the culmination of that season unfolds. This is one of the many reasons why college football is so revered and praised, more so than even the NFL (I myself like NCAA events more than I do professional sports entirely). It should come as no surprise, then, that these college bowl game upsets made history not only for their underdog's mere victory, but for what that overall rivalry, the individual teams', and era of the win had all collectively pertained to, for instance how the SEC became the Alabama conference (plus, why everyone hates on Nick Saban for being so unbelievably good). The tallest always seem to fall the hardest, as the cliché goes, but in these bouts it seems the most notable and valued ended up falling tremendously more painfully.  
1998 Rose Bowl Game
The Michigan-Ohio State football rivalry is known by many fans as "The Game," for it has lasted for literal decades (since around the 1970s) and often deems the nature of the NCAA football championship. ESPN even ranked it among the greatest North American sports rivalries in 2000, since two years beforehand saw one of the greatest college bowl game upsets. 
Featuring one of the NFL's current most successful quarterbacks, Tom Brady, the 1998 Rose Bowl Game speaks for itself without even mentioning Michigan, Ohio, or even their rivalry. Naturally being the favorite, Ohio soon fell by the wayside under the likes of Michigan State, who scored 10 unanswered goals in the fourth quarter. Even then, Brady was a star quarterback and led his team to an upset win victory as if it were easy. 
2007 Fiesta Bowl Game
Ending with a 43-42 scoreboard, there's no wonder why the 2007 Fiesta Bowl is considered one of the biggest college bowl game upsets ever, since the final hour or so was something of legend in college football. By simply fooling Oklahoma's defense in the final minutes of play, the Boise State Broncos easily ran the ball untouched to score in overtime. 
Oklahoma quarterback, Jared Zabransky, led with a faked throw to secretly pass Ian Johnson the ball for an easy touchdown game-winner. The pair were responsible for a variety of trick plays throughout the game, one of which even secured them the overtime needed in later winning the bowl. The tailback, Ian Johnson, proposed to his Boise State cheerleader girlfriend directly after scoring. 
1990 Liberty Bowl Game
When Ohio State and Air Force took the field on December 27th, 1990, there was no question that the victor would be anyone else but Ohio. Second in terms of Liberty Bowl game visits for both teams, the outcome of the event would come as a shock to everyone involved, and even met Ohio with belittled interest until finally wining the 1993 Holiday Bowl game. 
Which, as you can easily deduce, makes this historical Ohio loss one of the biggest college bowl game upsets, with an unlikely Air Force victory after the Ohio State QB Greg Frey threw an interception leading Carlton McDonald to clinch their Air Force win after a 40 yard-run touchdown. Since, it has been the only Ohio State-Air Force meet within the Liberty Bowl and an upset win that will continue to burn a hole into the hearts of Ohio fans everywhere. 
2002 Fiesta Bowl Game
Since ending on a still-questioned flag and penalty, the 2002 Fiesta Bowl Game went on to become one of the most seething college bowl game upsets for its finality that ended the ever-growing intensity of the Hurricanes's dynasty. Going into the bowl on a 34-game winning streak, Miami was easily the favorite and their immediate domination in the initial half of the game proved this, only until the first overtime struck a fold. 
The National Championship seemed up for the taking in Miami's perspective, having a 7-score lead with an opponent's fourth-down end zone pass rendered incomplete in the first overtime. This, however, would be erased due to a delayed flag thrown for a defensive pass interference, which gave Ohio State brand new life. To much the dismay for many Miami fans, the Buckeyes eventually clinched in double overtime, leading on years of debate concerning the penalty and overall outcome of the bout.  
1995 Sugar Bowl Game
As the 62nd post-season Sugar Bowl game featuring an unlikely—though still highly anticipated—battle between an unfavorable and extremely undervalued Virginia Tech team pitted against the likes of potential Southwest Conference champions, the Texas Longhorns, would go on to become one of the most memorable college bowl game upsets for a variety of reasons. 
Ignoring the later-revealed news involving a Texas player's assuming a false name, in addition to a variety of off-field incidents that had taken place before the bowl game had commenced, the actual event was a balanced act for both teams; Texas took the lead with a 10-7 scoreboard in halftime, until the underdog Virginia Tech utilized a powerful defense to stop Texas from scoring in the second half. This had graced the Hokies an unlikely 21 unanswered points for victory and later awarded VT wide receiver, Bryan Still, MVP of the game. 
2017 Dollar General Bowl Game
After coming off a rather bitter loss in the 2016 Camellia Bowl, the Toledo Rockets had hoped to bring their new and improved team to heightened greatness in the 2017 Dollar General Bowl against the same team who beat them: Appalachian State. Most recent among the many college bowl game upsets, this 34-0 victory incited by the Mountaineers ultimately proved to dismantle the Rockets entirely and awarded Jalin Moore offensive MVP. 
Though they were believed to easily achieve victory, Toledo was blinded sided by Appalachian State. Their seething revenge was put to rest by the likes of App State's extraordinary running capabilities, in addition to an exceptional game for Taylor Lamb, Mountaineers' star quarterback, and their defense's continued stoppage of the Rockets' lacking offense. 
1987 Fiesta Bowl Game
Wrapping up the bowl season and determining the national champion for the 1986 season, the 1987 Fiesta Bowl game (played on January 2nd) proved to be worthy of inclusion among the most memorable college bowl game upsets. Inviting the likes of Miami and Penn State, the bowl game unfolded into a record-NBC rating of 25.1, highest at the time for any college football game. 
Despite being 11-0 and undefeated, Penn State was viewed unfavorably by most in terms of winning percentages, while the Miami Hurricanes were envisioned as an unstoppable team to begin with. This, however, turned out untrue as Penn State's Pete Giftopoulos intercepted a pass by Testaverde, who was incidentally that year's Heisman winner, to ensure the Nittany Lions' victory over the favorite Miami. 
2011 Rose Bowl Game
TCU and Wisconsin was a rather unusual combo for the Rose Bowl of 2011, but it went down as a major upset for the Badgers when TCU ended with far more passing yards and a powerful first half that gave them a 1 point lead going into halftime. 
While it may not have been the most watchable event among college bowl game upsets, judged in particular by the second half, the extreme close-scoring game still proved to be worthwhile as TCU kept firm against the favored Badgers. In addition, a failed Wisconsin 2-point conversion to tie the game in the fourth quarter gave TCU the victory needed in proving themselves a valued college team. 
1992 Sugar Bowl Game
Though the Florida Gators were known for their superiority, since being ranked 3rd in the division and for having Shane Matthews, a Heisman Trophy candidate, as QB, no one could have expected Notre Dame to come out on top, especially with a 39-28 final scoreboard. 
From the very start and up to the end of the 1st quarter, Florida dominated with 10-0 that then led to 13-7 by the end of the half. By the fourth quarter, however, the Gators soon lost their footing and allowed Notre Dame to score three touchdowns with Jerome Bettis, star player of the game, who basically gave Notre Dame the win with 150 rushing yards and overshadowed Florida QB, Shane Matthews', 370 passing yards that set Sugar Bowl records.  
2007 Hawaii Bowl Game
Having over 30,000 in attendance and watched by an average 1.6 million people, the 2007 Hawaii Bowl was met with an immense amount of hype. Drawing in Boise State and East Carolina, the event was soon regarded as among the biggest college bowl game upsets when the EC Pirates beat Boise by only 3 points. 
The game has been highly regarded as one of the most upsetting turnouts in college football history, as East Carolina had zero chance in defeating Boise State, yet had easily dominated the game with a 31-14 score going into halftime. By the close of the fourth quarter, tensions had risen dramatically. With 15 seconds left and following a timeout, ECU sent kicker Ben Hartman the task of securing their victory, for which he did by converting a 34-yard field goal that still has Boise State fans cringing to this very day. 
1978 Orange Bowl
With Arkansas toppling Oklahoma with a 31-6 victory in the 1978 Orange Bowl, this historical moment would go on to be remembered as among the best college bowl game upsets for Arkansas' unlikely win proved of the sports' unpredictability. 
Lou Holtz was a first year coach for Arkansas that year, and his suspensions of three players prior to the game invited many to see the Razorbacks as instant losers in this college bowl bout, yet this proved otherwise when setting a 205-yard overall record for Orange Bowl history books. Beyond that, Dan Hampton's brick-house defense in holding back Oklahoma ensured their victory and eventually led them to be ranked third in the final season standings.