Unbalanced is powered by Vocal creators. You support
Rich Monetti
by reading, sharing and tipping stories...
more
Unbalanced is powered by Vocal.
Vocal is a platform that provides storytelling tools and engaged communities for writers, musicians, filmmakers, podcasters, and other creators to get discovered and fund their creativity.
How does Vocal work?
Creators share their stories on Vocal's communities. In return, creators earn money when they are tipped and when their stories are read.
How do I join Vocal?
Vocal welcomes creators of all shapes and sizes. Join for free and start creating.
To learn more about Vocal, visit our resources.
Show less
Andrew Zaccagnino Wins Heart of a Giant Award
Byram Hills linebacker leads by example.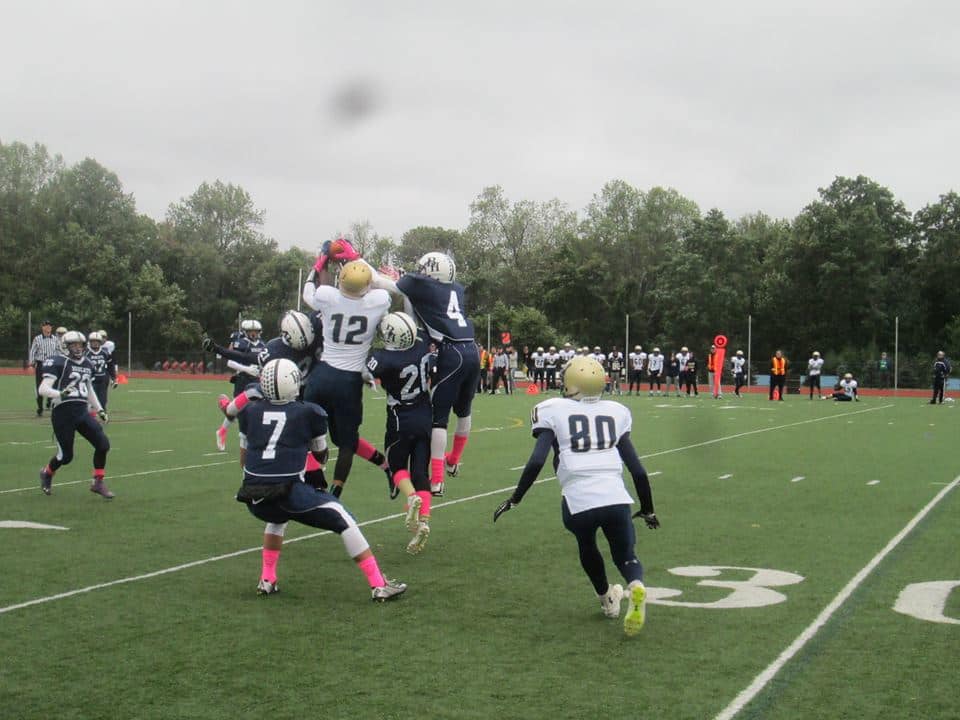 A sport like football hinges on teamwork, dedication, and sacrifice. So if a head coach cannot get this message across, the Xs and Os will never jump off the page. 22 football players will be left adrift and going through the motions. That's why Andrew Zaccagnino is a dream for Byram Hills Head Football Coach, Scott Saunders. 
"When you have someone like Andrew who cares about the program as much as you do, you know he will do everything in his power to get everyone else onboard," said Saunders.
So it should not be a surprise that the senior running back and middle linebacker has been recognized beyond the confines of his team and hometown. "Players who demonstrate unparalleled work ethic and passion for the game win the Heart of the Giant Award," says Saunders.
The award is sponsored by USA Football, the Hospital for Special Surgery and the New York Football Giants.
Hard Work and Leadership
Zaccagnion, for his part, is definitely on the same page as the criteria. "I am very honored because this award shows the amount of hard work I've put in over the last few years," said the week six winner. At the same time, the award will provide the Bobcat football program $1,500 for new equipment.
A 1–7 record this year might not reflect the workload, but leadership means the game face is always the same. "You can't show your true colors – no matter how angry or disappointed you are," he said. "You hold your head high after a loss or a win. That is the example you set for your teammates."
All the easier after a win, he understands victories are never gift wrapped. "Football teaches you that everything is earned," asserted Zaccagnino.
His coach agrees, and an example once again leads the way. "Andrew shows up and works as hard as he can, which forces other players to take notice and follow suit," said Saunders.
The gridiron also won't ever find Zaccagnino calling out a teammate after a mistake. "The fact is we're all family, and you do not go against your family," reasoned Zaccagnino.
Of course, all the emotions of a football game, staying even-tempered is much easier said than done. But Saunders doesn't waiver in his confidence of Zaccagnino's conduct. "You can always count on Andrew to do the right thing as opposed to the easy thing, and his coaches and peers respect him for that."
As such, Andrew knows where credit is due for the strong character he brings on a daily basis. "It comes from my parents and my coaches," said Zaccagnino.
Career Highlights
But the rewards haven't just been in the abstract. He points to the regular season upset of White Plains, who were the defending Section One Class AA champions. Armonk also defeated Eastchester in the bowl game last year and won this year's homecoming game. "The Beacon game was important because it let all the seniors go out on top," said Zaccagnino.
Byram Hills Baseball has a good sense of that preeminence, and owes an assist to the lessons Zaccagnino has learned each fall. "Football allowed me to be a better teammate in other sports," he said.
The talk also means he walks the walk. Bobcat baseball won the state title last year.
Coach Sanders believes the learning experience extends outside the hash marks also, and Zaccagnino exemplifies the program's aspiration to help shape men out of boys. "Andrew is a perfect example," he concludes.
If you'd like a sports, business or personal profile, game coverage at any level and/or photos, please contact me on Facebook at 914 318-0997 or [email protected]