Unbalanced is powered by Vocal creators. You support
Hayden Fisher
by reading, sharing and tipping stories...
more
Unbalanced is powered by Vocal.
Vocal is a platform that provides storytelling tools and engaged communities for writers, musicians, filmmakers, podcasters, and other creators to get discovered and fund their creativity.
How does Vocal work?
Creators share their stories on Vocal's communities. In return, creators earn money when they are tipped and when their stories are read.
How do I join Vocal?
Vocal welcomes creators of all shapes and sizes. Join for free and start creating.
To learn more about Vocal, visit our resources.
Show less
8 Team College Football Playoff
What Could Have Been If the College Football Playoff Was Between 8 Teams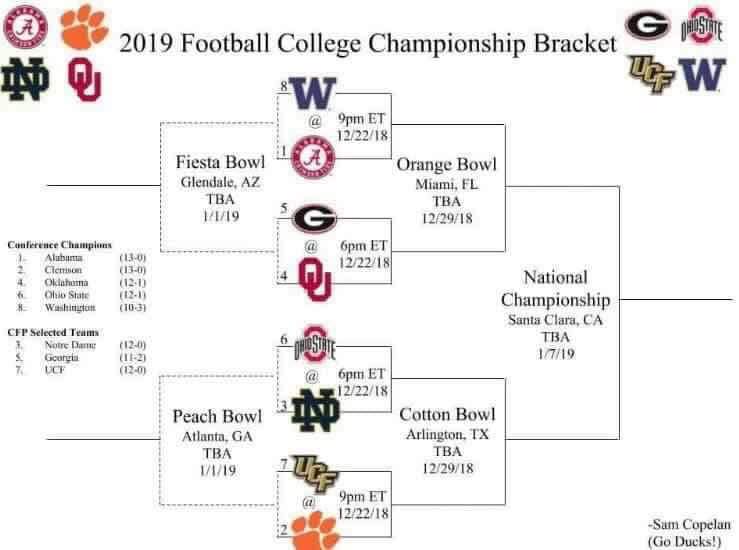 Disclaimer: I would just like to point out that I did not make this graphic myself. I found it on a website and I am merely expanding its idea. I loved the format and wanted to share it with other people. 
The College Football Playoff has been a hotly debated topic since it was first debuted five years ago. At that time, it was a much welcome change from the old BCS format that merely picked the two best teams from a formula and had them play each other for the title. People wanted to see their favorite teams have a chance and play in a playoff format. When the CFP was finally debuted, it came off as good but not what people expected. Some people enjoyed having a committee pick the teams and some people hated it. Through all the petty arguments that surround the playoff system, the biggest one seems to be the fact that only four teams are voted in. This has caused great outrage among fans and the debate on which teams deserve to be in never seems to end. People believe that conference championships are more important and some people believe that strictly the four best teams, no matter the losses, should play for the title. That is why I believe this eight team playoff format is exactly what the CFP needs to please all their fans. 
The Playoff Layout
The format would be played out to give every Power 5 conference a chance at the championship. All five championship game winners would get an automatic spot in the playoff bracket. So for 2018 that would be Alabama (SEC), Washington (Pac12), Oklahoma (Big12), Ohio State (Big 10), and Clemson (ACC). All these teams would be set up in the bracket format. The final three spots would be made up of selections from the playoff committee. These teams would be the three best at-large teams in the country and they can be from any conference. In 2018, that would be Georgia (SEC), Notre Dame (Ind), and UCF. The final eight teams would then be reranked by the playoff committee and then matched up based on the new rankings.
The Playoff Format
Now that we have all the teams ranked 1-8, we can begin to set up the first round of the new playoff system. The committee will place the highest rated seed against the lowest rated seed. This would continue through all four games. The higher seed would then get the home field advantage and would host each of the lower seeded teams. The winners of each of the four games would then go on to play on the traditional playoff format that is in place right now. The losers of the games would then go on to stay in two of the New Year's Six Bowl games as a consolation prize. 
Final Thoughts
I believe that this carefully constructed eight team playoff would build so much more intrigue for college football. It would give every power five conference relief knowing they won't be left out of the playoff. It also gives teams that may not win their conference championship a second chance at living their dreams. It would also give the final champion a greater sense of knowing that they truly are the greatest team in the country. I hope the NCAA looks at this system and really gives it some thought. It would add so much more excitement to a game that already keeps fans on the edge of their seats every week.