Unbalanced is powered by Vocal creators. You support
Jason Dandy
by reading, sharing and tipping stories...
more
Unbalanced is powered by Vocal.
Vocal is a platform that provides storytelling tools and engaged communities for writers, musicians, filmmakers, podcasters, and other creators to get discovered and fund their creativity.
How does Vocal work?
Creators share their stories on Vocal's communities. In return, creators earn money when they are tipped and when their stories are read.
How do I join Vocal?
Vocal welcomes creators of all shapes and sizes. Join for free and start creating.
To learn more about Vocal, visit our resources.
Show less
2018 NBA MVP Prediction
After a historic MVP race in 2017, the 2018 campaign is set to be just as competitive.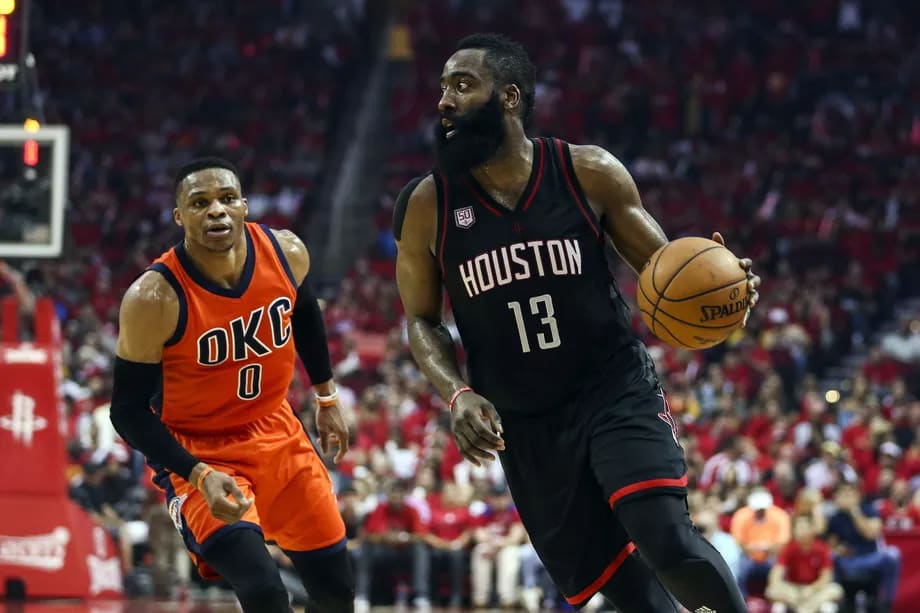 Last year we witnessed one of the closest MVP races in the league's 71-year history. Russell Westbrook and James Harden took turns posting historically great numbers night in and night out. In the end, Westbrook took home the hardware after averaging a triple-double over the course of the entire season. With the way the offseason has shaken things around the league, the award is once again up for grabs with many newcomers expected to be in the hunt. Here is how I see the race playing out this season with my top five candidates to win the award.
5: Russell Westbrook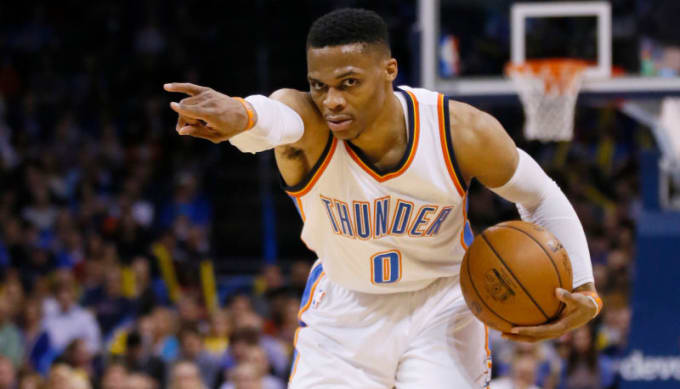 The reigning MVP got a lot of reinforcements this offseason. The Thunder added All-Stars Paul George and Carmelo Anthony to the team to take some pressure off Westbrook's shoulders. As a result, Westbrook will not have to do nearly as much to win games this year, which in turn lead to a dip in his numbers, compared to last season.
The main reason Westbrook edged out James Harden in the voting last year was because of his triple-double average. With George and Anthony on the team this year, Westbrook will not come close to his historic production of a year ago. Anthony and George are both good rebounders for their positions, and they both put the ball in the basket at a high rate. The days of Westbrook being used at an all-time high rate in NBA history (41.65 percent) are over, and he is going to have to readjust to playing with other star players again.
Predicted Stat Line: 26.3 PPG, 7.1 RPG, 9.5 APG, 45% FG, 33% 3PT
4: LeBron James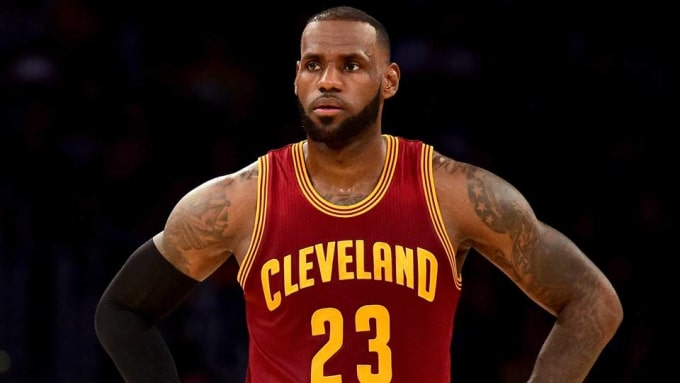 Like Westbrook, the supporting cast around LeBron James is vastly different than last year. The Cavaliers may have traded away Kyrie Irving, but they brought in many new faces. Isaiah Thomas, Derrick Rose, Jae Crowder, and Dwyane Wade are four notable players who have been brought in this offseason to replace Irving in the rotation. When fully healthy, there should be zero doubt that this team will run through the Eastern Conference playoffs again.
Health, however, is a legit issue. Isaiah Thomas is expected to miss at least the first two months of the season, and realistically will be out longer. At this time, there is no guarantee the Cavs will have the best record in the East. Similarly to how the Celtics finished ahead of the Cavaliers in the regular season standings last season, the same could happen this season, with Thomas likely missing half the year. Not finishing atop the watered-down East would be the biggest fault in James' MVP resume, because otherwise, he is set to once again prove why he is considered the best player in the NBA.
Predicted Stat Line: 25.9 PPG, 8.8 APG, 7.4 RPG, 50% FG, 37% 3PT
3: Kevin Durant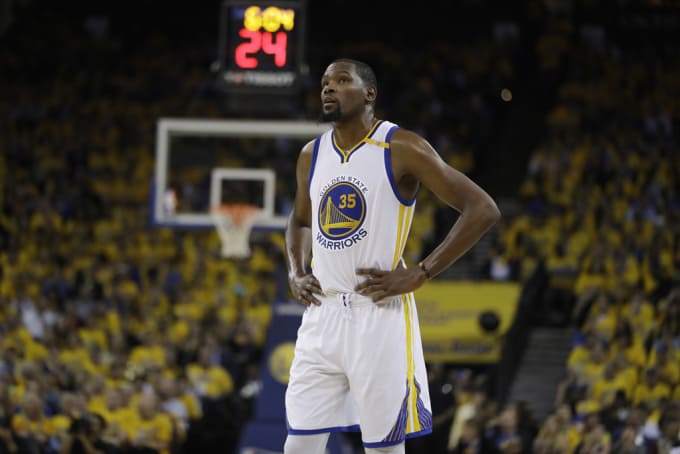 The best player on the best team in the NBA is always an MVP candidate. If Durant had not missed 20 games at the end of the season due to injury last year, he would have had a real shot at finishing top three in MVP voting last year.
After winning Finals MVP on averages of 35.2 points, 8.2 rebounds, and 5.4 assists per game, Durant will be carrying that confidence into the new season. Not only will he feel more comfortable around his new team after spending a full year getting used to the system, but the team around him also got better. Winning is always a major role in MVP voting, and with how historically good the Warriors are destined to be, there is no doubt Durant will at least receive some consideration among the voters.
Predicted Stat Line: 27.2 PPG, 8.4 RPG, 4.5 APG, 52% FG, 38% 3PT
2: Kawhi Leonard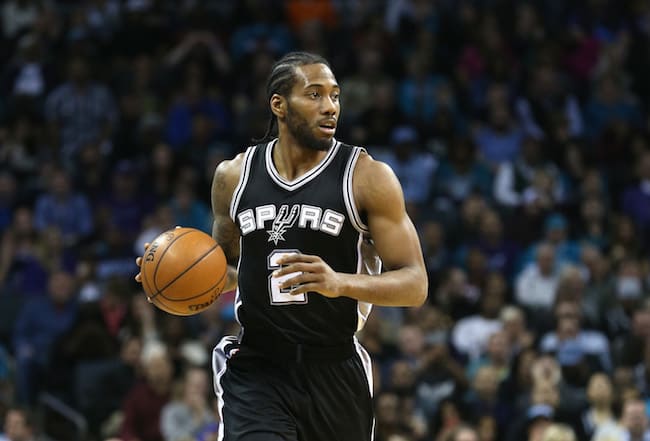 In an offseason that saw All-Star talent teaming up left and right, Kawhi Leonard remained the only star player on the Spurs. Even with this being the case, it would be foolish to count out the Spurs in the Western Conference. No Spurs team coached by Gregg Popovich won fewer than 50 games since 1999. The wise bet would be on this team accomplishing that feat again.
Being the lone star on a 50-win team certainly has its advantages in the MVP award voting. In the eyes of many, you are seen as the player that is "carrying" the team to greatness. This may not necessarily be the case, as Popovich's system has been foolproof for almost two decades, but narratives are a powerful tool. Expect Leonard to put up even bigger numbers than he did last year and finish the highest he ever has in the MVP ballot.
Predicted Stats: 26.6 PPG, 6.3 RPG, 3.7 APG, 49% FG, 39% 3PT
1: James Harden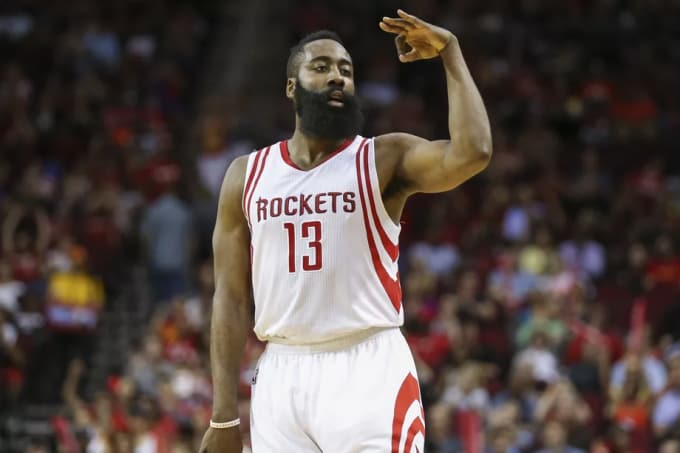 After being snubbed (yes, snubbed) from winning the award two times in the last three years, this will finally be the year Harden captures this elusive hardware. Last season, Harden took over the point guard role, but this year, he will be able to transition back to his more comfortable spot at shooting guard. The addition of Chris Paul to the Rockets will ease some of the playmaking load off Harden's back, while also opening Harden up to better shot opportunities off the ball.
Harden may have only shot 34.7 percent from three last year, but he shot 38.9 percent on catch-and-shoot threes. Being able to go back to playing shooting guard with an elite playmaker like Paul running the point, Harden should find himself with a lot more open looks in these situations. Playing with Paul could possibly be the best thing to happen to his career, and his efficiency should skyrocket as a result. Expect Harden to post a career high in points playing alongside Paul, and the Rockets to finish second in the West, featuring a lethal offense only to be matched by Golden State.
Predicted Stats: 30.8 PPG, 7.4 APG, 7.9 RPG, 46% FG, 37% 3PT
Conclusion
To summarize, picking the MVP for this season was no easy task. With the way the league was shaken up this offseason, numerous factors went into the way I looked at how the race could play out. Based on predicted statistics, win total, and impact, I believe James Harden is in the best position to take home the award that has been so elusive to him since 2015.