The Hall of Fame: Who Gets in This Year?
A discussion on a few of the names on the ballot this year and why they should or should not be in baseball's Hall of Fame.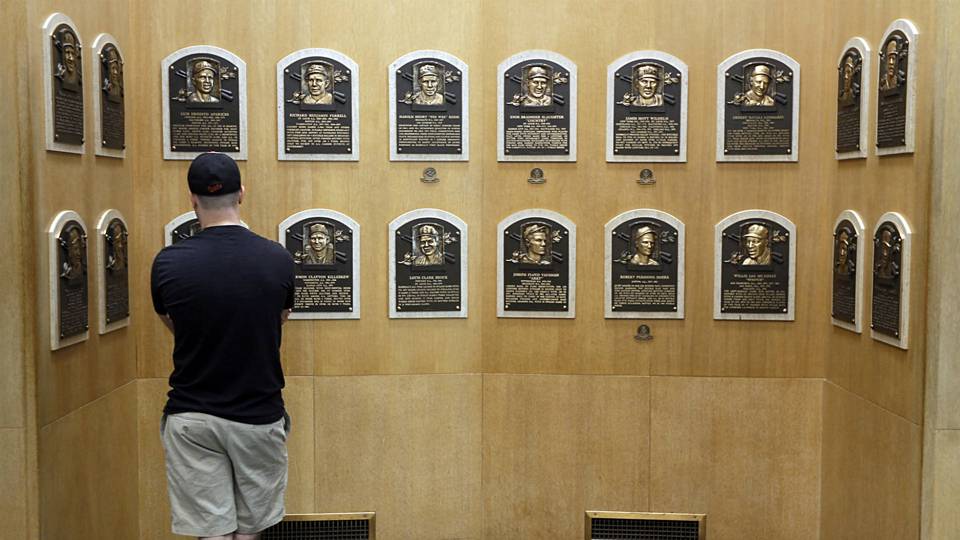 Last week, the 2018 BBWAA Hall of Fame ballot was revealed. Naturally, heated debate ensued. It is an impressive list and 2018 will be one of the more difficult years for the voters, for a wide variety of reasons. There are a handful of players whose names should not still be on the ballot at this time and, unfortunately, that has to be taken into account when deciding who to vote for. Some cases are more urgent than others.
I am going to discuss a handful of noteworthy players on this ballot, how I would personally vote on them this year, and why. However, I am not going to address Joe Morgan's letter to the voters, the issue of steroid-using players, or the character clause. That is intentional, because the question of whether players who took PEDs should be enshrined in the Hall of Fame requires another post entirely, and I won't attempt to do any disservice to that question by only dedicating a few sentences to it. I will simply use the players' numbers to explain each vote. If there are outside circumstances that any reader believes should disqualify an otherwise qualified candidate, they will not be discussed here. I will save the discussion of players associated with PEDs for another time.
The 10 players I would vote for this year are: Barry Bonds, Roger Clemens, Mike Mussina, Curt Schilling, Chipper Jones, Edgar Martinez, Scott Rolen, Gary Sheffield, Larry Walker and Jim Thome. I will talk about some of those players and others, and highlight the reasons they should or should not be in the Hall of Fame. Let's get started.
Vladimir Guerrero
Vlad has a very good case, and it is hard for me not to vote for him. As a outfielder for 16 seasons, he finished his career with a 59.3 bWAR. That is significantly below the 73.2 average WAR for the 24 right fielders in the Hall of Fame. His seven-year peak WAR of 41.1 falls just short of the average 43.0 for enshrined players at his position and his JAWS rating of 50.2 is behind the 58.1 given to other Hall of Fame right fielders. (Remember that JAWS combines career WAR and seven-year peak WAR to come up with a rating that shows how a player compares to current Hall-of-Famers.)

WAR has been discussed a great deal recently. It is not perfect, but Guerrero is not as close as many might expect. His career slash line of .318/.379/.553 and OPS+ of 140 will help him. These numbers look even better comparing them to other right fielders that have been inducted in the Hall of Fame. Dave Winfield, who received 84.47 percent of votes in 2001, had a career slash line of .283/.353/.475 and an OPS+ of 130. Guerrero was a much better defender as well, posting 43 total zone fielding runs above average in his career, compared to Winfield's 92 fielding runs below average.
Andre Dawson, right fielder narrowly inducted in 2010 (he received 77.92 percent of votes), posted a career .279/.323/.482 slash line with an OPS+ of 119. Reggie Jackson, who received 93.62 percent of votes in 1993, had a career slash line of .262/.356/.490 and an OPS+ of 139. In Runs Created, Guerrero ranks ninth all-time among right fielders with at least 3000 plate appearances in their career, ahead of Hall-of-Famers Mel Ott, Dave Winfield, Paul Waner, Andre Dawson, Chuck Klein and Frank Robinson. I think Guerrero will and should get in eventually; but, this year, I had to make a tough call.
Trevor Hoffman and Billy Wagner
I am going to take plenty of time discussing this one. Hoffman has a complicated Hall of Fame case. Keith Law, one of the best baseball writers around today, is convinced he is not even close to Hall-of-Fame material, while others are sure he is a slam dunk. I would put myself between the two, because I am honestly not 100 percent decided on Hoffman yet. It is very possible he will get in, given he is second all-time on the saves list, and voters care a lot about that.

I certainly would not be disappointed if he enters the Hall someday, but I am not convinced he is worthy just yet. Regardless, I would not vote for him this year. I just do not think he makes the cut, given the other players on this year's list. Statistically, Hoffman is, at best, on the cusp of being a Hall-of-Famer. He has a career bWAR of 28.4, which falls well short of the average for Hall-of-Fame relief pitchers, which is 40.6. His overall JAWS rating is 24.0, also short of the Hall-of-Fame average, 34.4.
This is one instance where I think WAR and even JAWS should not be the "end all be all" answer, especially for relief pitchers. Similarity scores are one way to compare the careers of two players. You start out with 1000 points and then subtract points for each statistical difference in a variety of categories, which are mostly traditional statistics. However, it is worth noting that Hoffman has a similarity score of 883.2 to Mariano Rivera, who is obviously a surefire Hall-of-Famer. This is not to suggest that Hoffman was nearly as valuable as Rivera, because he was not, but simply that he has a good similarity score with Rivera in a number of statistical categories, all of which can be found on Baseball Reference here.
Hoffman has a career ERA of 2.87, an ERA+ of 141, a FIP of 3.08, a 3.69 K/BB rate, and a 1.06 WHIP. Those are good numbers, but let's compare him to other relievers throughout all of baseball history and see where he ranks.
Among relief pitchers who threw at least 750 innings as a reliever in their careers, Hoffman ranks 10th in strikeouts, 24th in ERA, 18th in FIP, sixth in WHIP, fifth in K/BB, third in fWAR and second in Win Probability Added, a statistic that might be particularly useful for relievers. That is a mix of mostly good and some bad numbers, but an even better measurement of a player's career is how they compared to other players at their position during the time in which they played. Hoffman pitched from 1993 to 2010, so we will set that time parameter and see how he compares to other relievers who threw at least 500 innings (roughly half as many as Hoffman did) during that time. With those conditions set, Hoffman ranks second in strikeouts, third in ERA, sixth in FIP, fourth in WHIP, fifth in K/BB, second in fWAR and second in Win Probability Added.
So, what is the problem? Based off these numbers, you would probably conclude he should be in. I will give you the other side of the argument. Hoffman's case gets complicated when you consider the role that Hoffman played throughout his career. There are reasons to take issue with a statement I made earlier in this section, which is to compare Hoffman to other relievers during his career. This assumes that separating statistics by relief pitchers is the same as separating statistics by first basemen, or third basemen, or any other position, because being a relief pitcher is not exactly another position.
A relief pitcher's value often depends heavily on how they are used by their manager. Hoffman almost always came in for the "save" in the ninth inning or later when his team's win expectancy could be around 85 percent, if they were only up by one.
Despite what many may think, there is no special "mojo" that a pitcher needs to pitch the ninth inning that other pitchers just do not have. The hardest inning is actually the first inning, because it is the only inning where a player is guaranteed to face the other team's three best hitters. Year after year, more runs are scored in the first inning than any other inning. The idea of a "closer" has grown in modern day baseball and it is not exactly 100 percent rational. A team saving its best pitcher for only a "save" situation is using him in some of the easiest situations possible, which is not efficient if he is one of the team's best arms. Good pitchers can pitch well regardless of the inning, because their job is to pitch, and that does not change based on the inning.
For instance, in 2017, fewer runs were scored in the ninth inning across all of MLB than in any other inning — far fewer, in fact. Just 1,697 runs were scored in that inning, and in every other inning at least 2,000 runs were scored. The position on the mound is pitcher, not relief pitcher, or starting pitcher. If anything, it makes sense to have an "opener," someone to pitch just the first inning, but that is another discussion. All pitchers should be evaluated the same way and special considerations should not be made for those who only have to come in for one inning, the inning in which fewer runs are scored than any other. If that makes it very difficult for modern relief pitchers to enter the Hall, so be it.
Keeping this in mind, if we treat Hoffman just as a pitcher and compare him to other pitchers during the time period in which he competed, we find that he was 57th in fWAR, ninth in WPA, 17th in WPA/LI (this takes into account the win expectancy of his team when he came in and when he left the game, giving context for the level of difficulty of the situations in which Hoffman pitched). His ERA, FIP, WHIP, K/BB numbers are largely the same. He is in the top 10 for most of them, but because of the role he played and throwing fewer than 1100 innings, his value was not even close to that of other pitchers. Hoffman's value was similar to an average mid-rotation starter. That does not sound Hall-of-Fame worthy, does it?
Hoffman has a complicated Hall of Fame case and I am rather surprised he has not gotten in yet simply because of how much weight I assume the voters put on saves for closers. Though Billy Wagner did not accumulate nearly as many saves as Hoffman and might have been slightly more valuable, much of the same criticisms can be applied to his case, as well. Both are in their third year on the ballot.
What cases like Hoffman and Wagner come down to is how we want to evaluate modern relief pitchers. Hoffman was one of the very best relief pitchers in the game during his career, but he was not one of the most valuable pitchers in the game during his career. Nevertheless, his case is not urgent enough this year and maybe he should never get in, but his case will continue to be discussed and argued over his last few years on the ballot.
Andruw Jones
I will start off by saying this: I think Andruw Jones is a Hall-of-Famer. But, it is his first year on the ballot, which is why I would not vote for him this year. He has got time to get in and I think he will, so his case is not as urgent as others. Jones produced 62.8 career bWAR, and his seven-year peak WAR of 46.4 leads the average HoF center fielder peak WAR of 44.6. His career slash line of .254/.337/.486 and OPS+ of 111 does not look promising, but digging deeper, it is clear he should be in.

There are 19 players in baseball history with at least 8,000 plate appearances, 150 stolen bases, an OBP of .330, and 400 home runs. Andruw Jones is one of them. Of the other 18 players, 16 are in the Hall of Fame or are nearly guaranteed to be enshrined (Jose Canseco and Gary Sheffield are not in). There are only four players in history with at least 2,000 plate appearances, 120 stolen bases, an OBP of .330, and 300 home runs as a centerfielder. They are: Mickey Mantle, Willie Mays, Ken Griffey, and… Andruw Jones. Not a bad list to be on.
Edgar Martinez
Edgar Martinez is a Hall-of-Famer. He is arguably the greatest Designated Hitter of all time, and also has over 2,250 plate appearances as a third baseman. He finished his career with a 68.3 bWAR. There are 103 players in history with at least 1,000 plate appearances as a DH. Among those, Martinez is second in Runs Created, first in OBP, fifth in SLG, first in OPS, third in HR, and second in Total Bases. While he primarily played the hot corner from 1987 to 1994, he hit .303/.391/.460 with an OPS+ of 133. During that same time period, as a third baseman compared to others at the same position with at least 2,200 plate appearances, he ranks third in OPS, second in OBP, fourth in SLG, seventh in ISO, and has the second fewest amount of strikeouts.

Scott Rolen
Rolen should be a lock for the Hall of Fame, but I am not sure if he will get enough votes his first year on the ballot, which is crazy. Scott Rolen is one of the greatest third basemen of all time, never mind one of the very best during his era. With a career bWAR of 70 and a seven-year peak WAR of 43.5, he is ahead of the average Hall-of-Fame third baseman by those metrics alone. Among third baseman with at least 7,000 plate appearances, Rolen ranks fifth in OBP, sixth in SLG, fifth in Runs Created and sixth in Runs Produced. Among third basemen with at least 3,000 plate appearances during the entire span of Rolen's career, he is seventh in wRC+, sixth in wOBA and fifth in OBP.

In all of these lists, he consistently ranks behind players like Chipper Jones, Adrian Beltre and Alex Rodriguez, all of whom are sure to be enshrined. And the only one of those three players who can hold a candle to Rolen defensively is Beltre. His 182.2 Defensive Runs Above Average ranks fifth among third basemen of all time. From 2002 to 2012, Rolen ranks second behind Adrian Beltre in UZR, Defensive Runs Saved and Range Rating. Rolen may have been overshadowed by some of the game's biggest sluggers in the hot corner, but considering the value of his glove, puts him in an elite category.
Curt Schilling
Schilling is a Hall-of-Famer. I will not talk about his character. But, the only possible reason one could have for not voting for Schilling is that they think he is a really bad guy, which is kind of an absurd reason, especially given some of the players already in the Hall. Curt has a career bWAR of 79.9, an ERA of 3.46, and a 3.23 FIP. He ranks sixth in WHIP among pitchers with at least 3,000 IP in all of baseball history. All five players ahead of him are in the Hall of Fame.

He is 13th in strikeouts among the same group of pitchers; again, all 12 players ahead of him are in the Hall of Fame, except for Roger Clemens. He is fourth in K/9, behind Randy Johnson, Nolan Ryan, and Roger Clemens. Curt Schilling is also the all-time leader in K/BB ratio at 4.38 among pitchers with at least 3,000 innings pitched. Second place is Mike Mussina at 3.58. Yes, Schilling is almost a whole strikeout per walk better than second place in baseball history.
This is Schilling's sixth year on the ballot, and it is practically a crime that he still has not been elected. Hopefully, he is this year.
Johan Santana
Santana has an interesting case for the Hall of Fame. He has a relatively short career compared to other Hall-of-Famers, only pitching for 12 seasons, but he amassed 51.4 bWAR with a 3.20 ERA in that career. His WAR numbers are below the average for Hall-of-Fame pitchers. But, he led the league in ERA, ERA+, strikeouts, K/9 and FIP three times in that 12-year span, and finished with a career ERA+ of 136.

Among pitchers who have thrown 2,000 innings in their career, Johan Santana ranks sixth in K/9. Of the five players ahead of him, four are in the Hall of Fame. The one who is not is Sam McDowell, who was 10 WAR below Santana. He is ninth in WHIP, 11th in K/BB and 10th in batting average against the same category of pitchers. Santana, though he has a short career, should appeal to more traditional voters, too. He has a .646 W%, won the Cy Young twice, the Triple Crown and Gold Glove award once, and the ERA title three times. Santana's career is fairly comparable to that of Sandy Koufax.
The table below demonstrates this: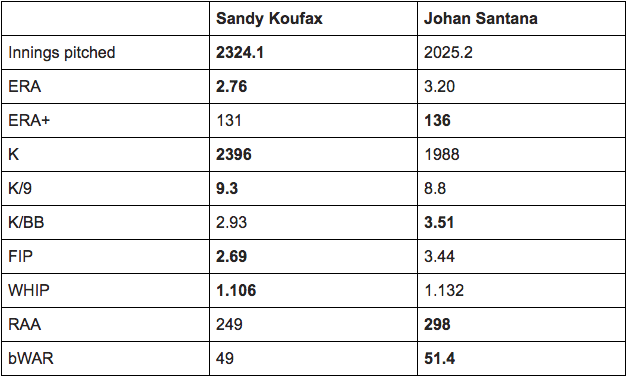 Koufax has more accolades, including three Triple Crown awards, three World Series rings, two WS MVPs and five ERA titles. This is, at least partly, due to the fact that the teams Koufax played were much better than the ones on which Santana played. But, as you can see, their careers are pretty similar, with Santana besting Koufax in most of the value statistics, and Koufax ahead in the rate statistics. When Santana was at his best, he undoubtedly pitched like a Hall-of-Famer. It just was not for quite as long as other pitchers did. This is evidenced by the fact that Santana is sixth in seven-year peak WAR among the players on the ballot this year.
It is not an easy sell compared to some of the other players on this list, but I think Santana gets in eventually. It is his first year on the ballot, so his case does not qualify as an urgent one yet.
Larry Walker
In his seventh year on the ballot, Larry Walker inexplicably received only 21.9 percent of the votes. Looking at the most accurate and complete statistics, it is strange to see him get so few votes. I can understand if he just barely makes it in; I do not expect that many Hall-of-Fame voters to look at the right numbers, but this guy should be in, no doubt.

Walker has a career slash-line of .313/.400/.565 with an OPS+ of 141. His .565 SLG is third among players listed on the ballot, and his OPS+ is sixth. Walker's seven-year peak bWAR is just ahead of the average Hall-of-Fame right fielder, and his JAWS score of 58.6 is right at the average 58.1. Of course, WAR is ballpark-adjusted, so the argument that he played at Coors Field does not hold too well.
Among players with at least 6,000 plate appearances while playing right field, Walker is second in OBP, fifth in HR, fifth in runs created, fifth in stolen base percentage, fifth in Runs Created and second in OPS. Those rankings are among right fielders throughout all of baseball history. From 1989 to 2005, Walker was arguably the best right fielder in baseball. He is first in Runs Created during that time span among right fielders with at least 3,500 plate appearances, fourth in OBP, third in OPS, fourth in ISO and second in home runs. He was a very average fielder and added plenty of value at the plate to be in the Hall. Compared to a Hall-of-Famer like Tony Gwynn, who was elected easily with 97.61 percent of the votes, Walker has 442.6 Batting Runs and 41.8 Batting Wins. Gwynn has 437.7 Batting Runs and 42.8 Batting Wins.
Walker should have been elected long ago and his case is certainly an urgent one now. It is clear he should be in the Hall of Fame.
Omar Vizquel
I would not vote for Vizquel this year or any year for that matter. A three-time All-Star and 11-time Gold Glove winner, Vizquel will probably receive the five percent necessary to stay on the ballot, but he should never reach the 75 percent needed to be in the Hall. His 45.3 career bWAR is well short of the HoF average of 66.7, as is his JAWS score of 36- (the HoF average is 54.8).

Vizquel has a career slash line of .272/.336/.352 and a career OPS+ of 82. He has -262.3 Batting Runs and -25.5 Batting Runs. Offensively, Vizquel does not make the cut for the Hall of Fame. But, there is an argument that he was so good defensively (he won 11 Gold Gloves, so he must have been), that his value in the field more than makes up for whatever ways he comes up short at the plate. He is often compared to Ozzie Smith, the greatest defensive shortstop of all time. The table below compares them.
One of the hardest things to do in baseball is quantifiably measure fielding and it is even harder to do for players who did not play with pitch fx or Statcast. Comparing two players, like Smith and Vizquel, for defensive value is difficult, but with the best metrics we have, they are not even close. Other stats, like fielding percentage, total zone runs, and even defensive runs, are either incomplete for their careers or, as is the case with fielding percentage, completely inaccurate.
It is impossible to argue Vizquel's place in the Hall from an offensive standpoint and it is simply very difficult to do so from a defensive standpoint. I do not doubt he was a good shortstop — even a very good one — but I am not going to elect him to the Hall because of flashy highlight reels. Players who played the majority of their careers without the technology that we have now and rely on their defensive metrics to get them elected should have a very difficult time getting in. There are certainly worse players than Omar in the Hall of Fame, but I do believe his election would lower the standards quite a bit.
This is the end of my lengthy discussion on the 2018 Hall-of-Fame ballot. I tried to ignore players who were either clearly deserving or undeserving of the Hall of Fame, unless they are an urgent case like Schilling and Walker, and discuss those players who might be on the bubble. I only gave brief arguments showing the reasoning for voting or not voting for certain players, and there is more to discuss about each player.
I wanted to talk about Mike Mussina as well, because he is definitely a Hall-of-Famer, but this is long enough already. I encourage any of you to research him on your own. I also have to give credit to Baseball Reference, whose awesome website allowed me to easily research some detailed statistics on all of these players. I used their play index, which can be found here. It is a phenomenal tool, one I hope everyone who has read this article will utilize on their own as debates about Hall-of-Fame players continue for the next few weeks.