Baltimore Must Trade Manny Machado
The White Sox have reportedly become frontrunners for the Orioles third basemen, and Chicago has a healthy wealth of young pitching to involve in a deal.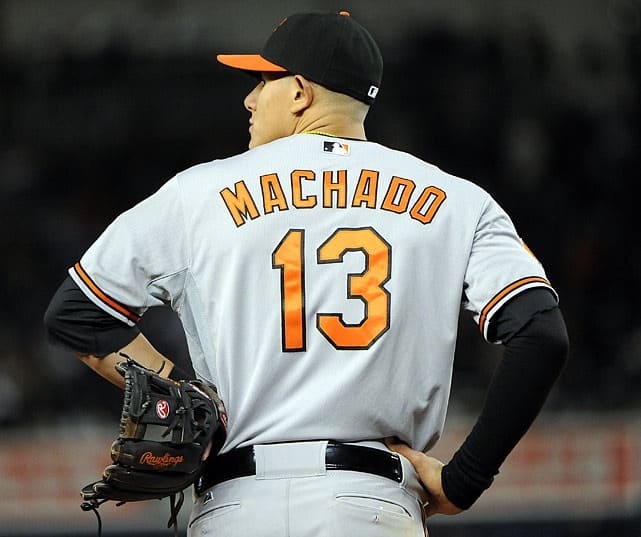 It's no secret that Manny Machado has been an absolute stud for Baltimore over his six-year major league career. He has emerged as one of the most talented third basemen in the game, both offensively and defensively. 
The Orioles are coming off a horrendous 2017, where they finished last in the American League East with a 75 and 87 record. They had one of the worst pitching staffs in the majors, with a team ERA of 4.97, which ranked them 27th in the bigs. The only two pitchers who they currently have in their rotation are Dylan Bundy and Kevin Gausman. They need pitching. It's simple as that. Machado is a free agent after 2018 anyway, but there is no chance he will be staying. After next year, Adam Jones, Brad Brach, Zack Britton, and Johnathan Schoop will all become free agents too. That doesn't leave the O's with much. The only player they have locked up for long term is Chris Davis through 2020. But he is 31, and his performance is declining every year. They need pitching right now. It's a must. 
The White Sox have a wealth of young arms, and it's a place that Manny Machado would fit in very nicely.
The South Side
The White Sox have a definite opening at the hot corner for Machado. Tyler Saladino and Yolmer Sanchez have been average at third, and let's be honest, Machado would make any club better at third base. He's finished in the top five of MVP voting three times, won two gold gloves, and made three all-star teams. They need that offensive threat that they can rely on day in and day out, and that's exactly what Machado brings. At just 25 years old, he's turned into one of the faces of Major league baseball. Machado is a free agent after 2018, so the Sox could try to lock him down for the long term.

They have struggled to make the playoffs for many years, so GM Rick Hahn is willing to make a big move. But with a big move to acquire an elite talent like Machado, you're going to have to give up some valuable arms in return.
What could Baltimore get?
For the Orioles, they could receive a couple of elite arms that are close to the majors. If I'm the Orioles GM Dan Duquette, one of the arms I immediately discuss with the White Sox is Michael Kopech.

The top pitching prospect in all of baseball that was a key part of the Chris Sale trade, Kopech brings a triple-digit fastball to the table. He finished last year in Triple-A with the Charlotte Knights and is very close to making the big leagues. The White Sox are hoping this could be their future ace of the rotation, so there is definitely a chance they won't part ways with Kopech. But if I'm the Orioles and I'm giving up a player like Manny Machado, who has proven himself in the big leagues, I'm definitely looking to get some elite young pitching in return like Kopech.
The next arm that could be a possible discussion would be Carson Fulmer. He's already spent some time at the major league level, and he could jump into the rotation right away for the Orioles. He spent time both as a starter and reliever with Chicago, but he does have a lively fastball and good off-speed stuff. In Baltimore, he would get the chance to be in a rotation.
There are many other names that could come into play for the Orioles. Lucas Giolito, Carlos Rondon, Reynaldo Lopez, among others. If the White Sox do end up really wanting to acquire Manny Machado, they are going to have to be willing to give up some elite, young pitching in return.
Baltimore is in the midst of a rebuild in a sense, and some solid, young arms could really help that. Getting rid of Manny Machado might not seem like the right thing to do, but pitching is where they really need the help.
The White Sox have a gaping hole at third and Machado could really find a home in Chicago potentially.
Do the White Sox have the money to give Machado a big contract after 2018? We'll have to see. He certainly deserves a hefty payday.
Either way, in the next couple weeks, we will see Manny Machado in a different uniform that isn't bright orange. His days as an Oriole look like they are definitely coming to a close.