'Balllllllinnnnn' — This is Why The Chiefs Should be Super Bowl Favorites
Five weeks into this NFL season, a few things look to be concrete. Colin Kaepernick won't get a job, rookie RB's and QB's are all the rage, but mostly, the Chiefs are Super Bowl favorites!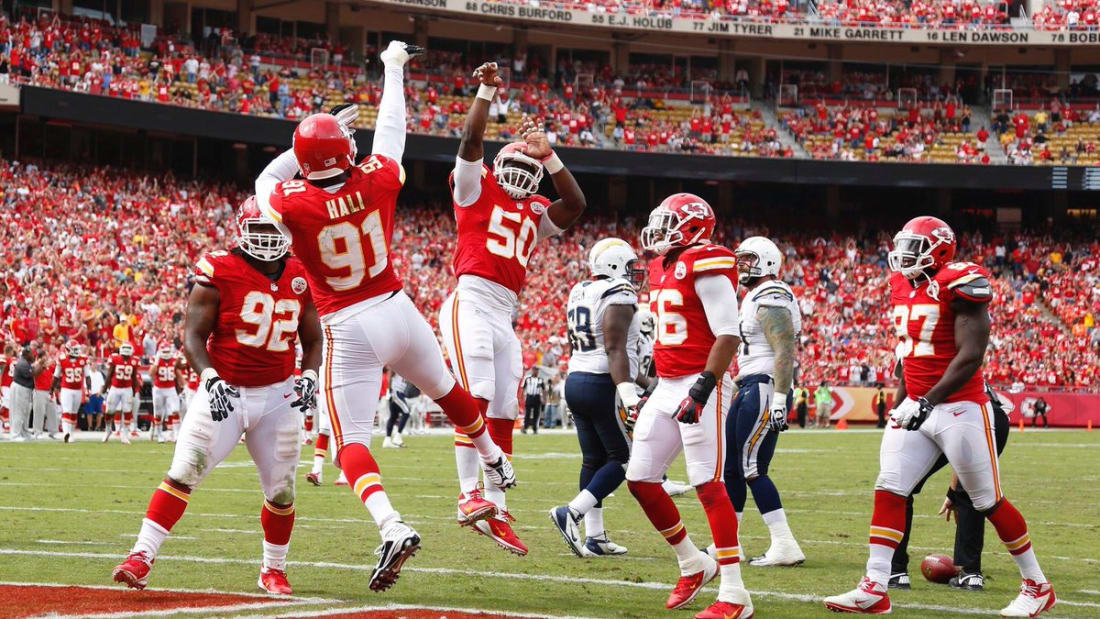 Although only five weeks in, the NFL is starting to take shape. Aside from the black cloud that is "the national anthem controversy," there have been plenty of other storylines for the NFL fan to salivate upon.
Andrew Luck still hasn't played a down, anybody surprised? Breaking news here, and that would be that Jeff Fisher is literally absolutely terrible as a head football coach. That is as apparent as Jared Goff looking like a brand new guy. Jameis Winston appears to be winning the head to head matchup between he and Marcus Mariota. Rookie quarterback sensations are pretty much a "thing" now, and many other story lines are there to be devoured  and feed your cravings. The Big Mac of them all, though, is the Kansas City Chiefs and everything about them. Mostly that they look like the team to beat in this year's Super Bowl. Although I'm not sure about the two all-beef patties, the Chiefs look like they have all the Special Sauce it might take to do just that. 
Disclaimer
Before getting lambasted by the masses for "forgetting" to mention someone, let's first address the Green Bay Packers and Aaron Rodgers. What he did on Sunday against the Dallas Cowboys to carry his team to a 4-1 record was absolutely amazing, but was it all that of an outlier? It wasn't at all. You know if he has time, like as in 70 seconds or more, there is a good chance that Rodgers can put one up, or at least get you close enough for a field goal. Regardless of how the rest of the team looks and as specifically in a porous defense at times and a shaky kicking game, those clutch and playmaking abilities always keep GB in the hunt for a title. Secondly, and as freaky as it seems to say knowing how their defense looks right now, you can never count out the New England Patriots, Tom Brady, and Bill Belichick. No thorough or lengthy explanation needed here, just check the resume. They win titles, that is simply what they do. I look forward to seeing them take their customary places deep in the postseason somewhere. 
Rebirth of Alex Smith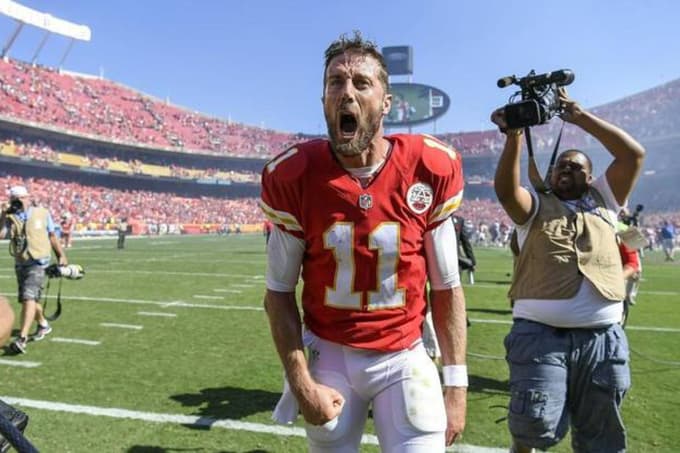 On to the main attraction as we dive a bit deeper into what makes the Chiefs the team to beat. If you look immediately on the surface, you see Alex Smith. The saying goes that if you don't have a quarterback then you don't have a shot in the NFL and that seems to be true. However there have been exceptions to that in the form of Trent Dilfer and what he was able to do with the Baltimore Ravens in their Super Bowl championship, and Brad Johnson doing likewise with the Tampa Bay Buccaneers. They were both considered "game managers," and up until this point in his career so has Alex Smith. Well not any more. The arrival of hotshot rookie Patrick Mahomes, who just so happens to have a rocket launcher where his arm should be, has seemingly lit a fire under Smith, and his play is indicative. Leading the second ranked offense in the league by yardage gained, and also being third himself in total passing yards, Alex Smith is setting the league on fire. Although the rookie has helped to motivate the veteran, and dare I say "MVP" candidate, the weapons put around him has helped to elevate his stature as well. 
Emergence of Kareem Hunt, Progressions of Travis Kelce and Tyreek Hill, & Evolution of Andy Reed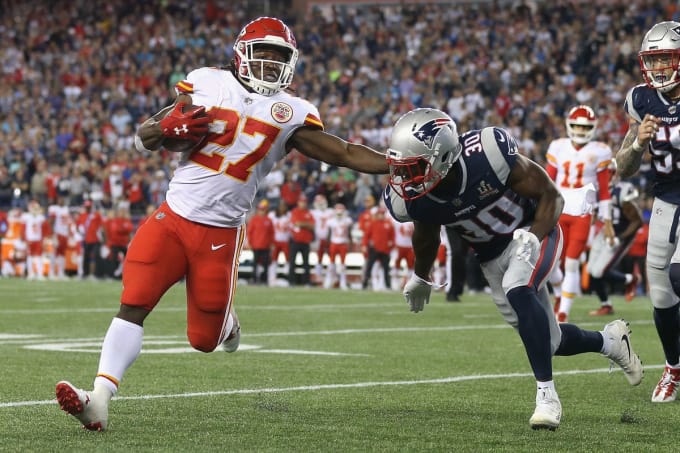 Speaking of the weapons, who would've known that Kareem Hunt would not only dominate the league as a rookie, but lead the league in rushing as well as being one of the most dangerous pass catching backs out of the backfield? Only one person in the entire world, but regardless of that, Hunt has been outstanding for Smith and this Chiefs team. Along with Hunt and Smith, the Chiefs have two dynamic pass catching threats that work from very key positions on the field. Travis Kelce is a dynamic tight end who specializes in "YAC" or making "yards after catch" is made. Tyreek Hill is pure speed personified and lines up everywhere on the field, not only making for a game of chess between coaching staffs but a battle on foot for the opposing defender, often ending up with Hill winning that race. Remember the soothsayer from earlier who knew what he had in Kareem Hunt? Yeah, that was Andy Reid, who is probably the biggest reason for this whole project coming together as flawlessly as it has. He is so creative with his play call and specializes in drawing up plays, especially those to utilize his pieces to the max of their potential.
The defense has of course been a huge contributor along the way, as well they should be with the names on that side of the ball. Bennie Logan, Justin Houston, Derrick Johnson, Marcus Peters, and Dee Ford help to make up a defense that although is definitely missing all world safety in Eric Berry, should be able to not only hold the fort until or if he returns, but excel in any situation. Thinking and believing that they can somehow manage to continue getting to the quarterback and forcing take aways, giving this high powered offense the ball and thus opportunities to ring the scoreboards like a game of pop-a-shot, this is why the Kansas City Chiefs are my Super Bowl Favorites.